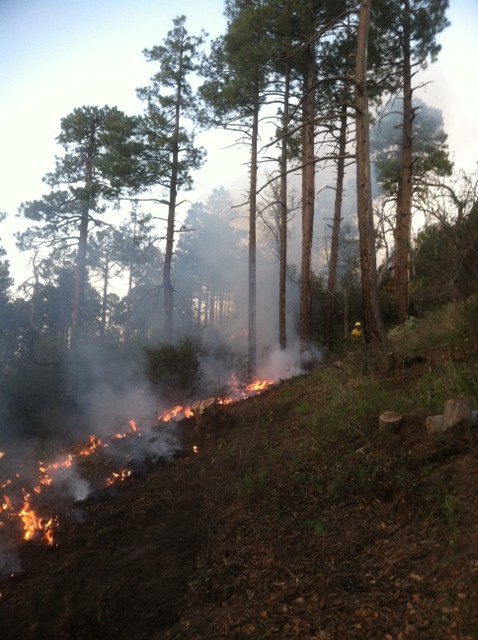 News Release Date:
August 7, 2014
Contact: Fire Information Hotline, (520) 733-5150
Tucson, AZ – Smoke from the Deer Head Fire will continue to be visible today over the Rincon Mountains. The lightning caused fire is being managed for natural resource benefits in the federally designated Wilderness area of the Rincon Mountain District of Saguaro National Park.
Firefighters burned out 50 acres along the south perimeter of the fire between constructed fire lines and the fire on Wednesday. Global positioning instrument surveys of the fire indicated that the fire has grown to 1,003 acres. It continues to burn in Wilderness, where it is functioning in its natural role, helping reduce fuel loads and maintaining wildlife habitat. Firefighters continued to direct the fire's spread away from important resources in the area, such as the historic Manning Camp. Firefighters will continue burnout operations on the fire's south perimeter today, as part of the strategy of keeping the fire east of Heartbreak Ridge. Firefighter safety continues to be a primary concern.
Weather forecasts for the remainder of the week indicate increasing moisture and chances of precipitation with isolated to scattered thunderstorms passing through the area beginning tonight, and continuing into the beginning of next week. Smoke will continue to be visible from Tucson and eastward along Interstate 10.
Firefighters, personnel and equipment from a number of local, state and federal agencies including the Rincon Valley Fire District and Arizona Department of Transportation continue to assist Saguaro National Park with the fire. Federal agencies include the Bureau of Land Management, National Park Service, and the U.S. Forest Service. A contract helicopter from Aero Tech of Clovis, New Mexico is flying reconnaissance missions and, along with mule trains, is ferrying supplies to firefighters, and supporting firefighters with water bucket drops.
The Jackalope fire was controlled about 8:00 pm yesterday, and the Tanque Verde Trail and Juniper Basin Campground will re-open this morning. It is still very dry, however, and visitors are reminded to exercise caution and use only designated areas for campfires. Hikers should also be aware of lightning from passing thunderstorms. All other Rincon Mountain District backcountry closures will remain in effect for the duration of the Deer Head Fire to ensure public safety.  
For additional fire information visit: https://inciweb.nwcg.gov/ or: https://Facebook.com/SaguaroNationalPark or call the Fire Information Hotline at (520) 733-5150.