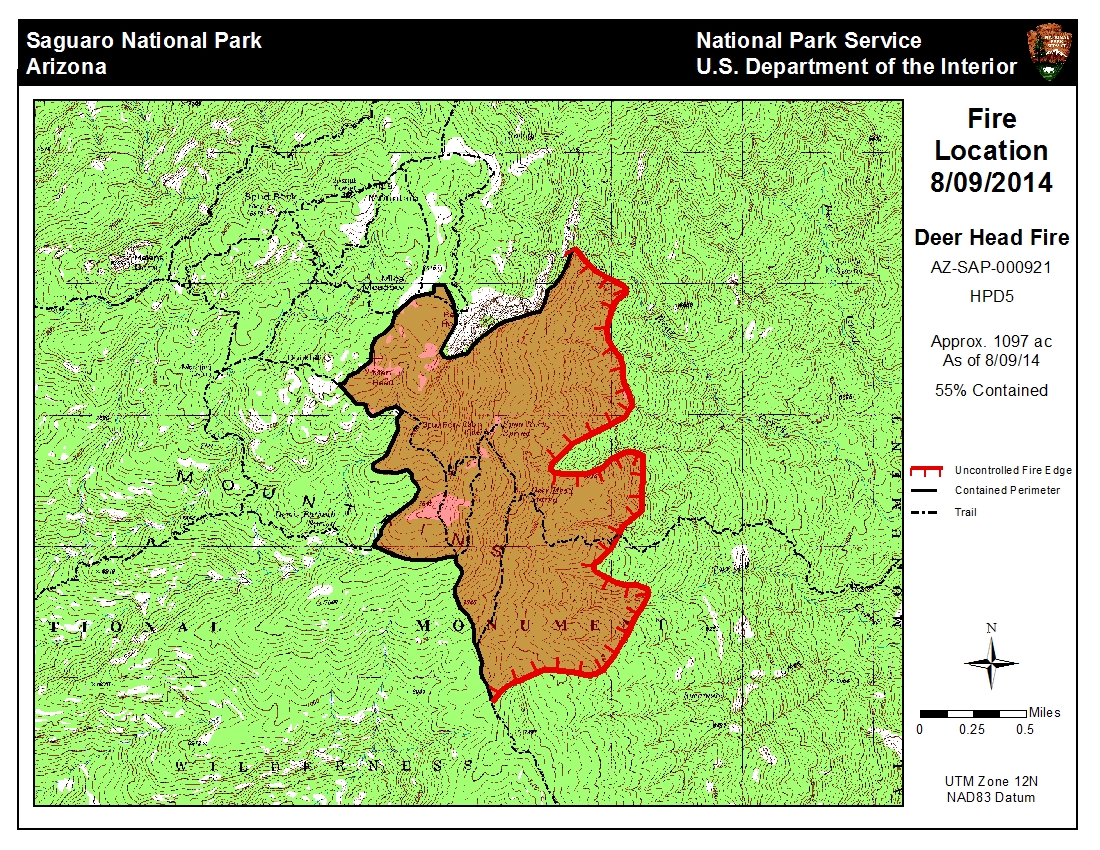 News Release Date:
August 10, 2014
Contact: Fire Information Hotline, (520) 733-5150
Tucson, AZ – Aerial reconnaissance yesterday afternoon showed that the Deer Head Fire grew, slightly, to approximately 1,097 acres. It is now 55% contained. The fire's eastern flank remains active, and firefighters continue to direct the fire's spread away from important resources such as the historic Manning Camp. The Park's strategy is to keep the fire east of Heartbreak Ridge.
On Saturday, crews removed organic material from the Heartbreak Ridge Trail, from where the fire is actively burning to the Happy Valley Lookout, and removed heavy concentrations of fuels adjacent to that section of the trail. Additionally, the crews removed hazards from the fireline, which might endanger firefighters. Firefighters continue to monitor the fire's behavior and will take action, if needed, to ensure the fire stays within an area where it can be safely managed.
On Sunday, crews will begin to rehabilitate trails and fire lines within previously burned areas of the fire, which are no longer active. A Type 3 helicopter continues to fly reconnaissance missions, ferry supplies to firefighters and is available to support firefighters with water drops from a bucket if needed. Fifty-two personnel are assigned to or are assisting with the fire.
Increasing moisture and humidity have slowed the fire's progression in recent days and similar conditions are expected to persist into the coming week. The fire received 0.08" of precipitation on Saturday. The weather forecast is for scattered afternoon and evening showers and thunderstorms this week, with 30% chance of precipitation on Sunday, increasing to 40% on Monday.
Saguaro National Park is managing the fire for multiple objectives. This low to moderate intensity surface fire is benefitting a fire-adapted ecosystem by clearing the forest floor of brush, grass, and ponderosa pine and oak litter, improving wildlife habitat and reducing hazardous fuel loads.
The lightning-caused fire is located in the federally-designated Wilderness area of the Rincon Mountain District of Saguaro National Park. Lightning-ignited fires are important in maintaining healthy forests in the mountains of southern Arizona. Fire historically burned through the high elevation ponderosa pine forests of southeastern Arizona every few years.
All Rincon Mountain District backcountry closures will remain in effect for the duration of the Deer Head Fire to ensure public safety.
For additional fire information visit: https://inciweb.nwcg.gov/ or: https://Facebook.com/SaguaroNationalPark or call the Fire Information Hotline at (520) 733-5150.