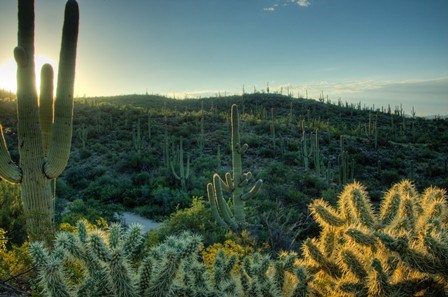 Join us in January at the Tucson Mountain District to celebrate the spirit of togetherness.
The events of January 8, 2011 shook the Tucson community to the core, affecting each of us deeply. But in the months after, members of Gabe Zimmerman's family and a diverse coalition of community partners came together to craft a positive response to the tragedy and out came the Tucson Trails Tribute and the event
BEYOND * Commemorate * Celebrate * Commit
Saguaro National Park will be taking part in BEYOND, to help commemorate the tragedy with a positive re-commitment to build a stronger community and get out with others to promote physical and mental health.
We are teaming up with the Southern Arizona Roadrunners for a free, non-competitive 5K social run among the cactus at the Tucson Mountain District. Runners and walkers of all ages and abilities are invited but, please, no wheeled vehicles and sorry, no pets will be allowed.
The course will include rolling dirt roads, some pavement, and plenty of gorgeous National Park scenery. The run will not be timed, but participants must register. This FREE event is limited to 400 participants due to parking and trail usage concerns, so please check on registration details at www.azroadrunners.org.
Our participation in BEYOND will be a small but important part of Tucson and Southern Arizona's demonstration of a positive response to tragedy and loss.
If you want to volunteer or to learn more about BEYOND, please go to www.beyond-tucson.org. To register for the event visit http://www.beyond-tucson.org/event/5-mile-social-run-at-saguaro-west/