White-winged Dove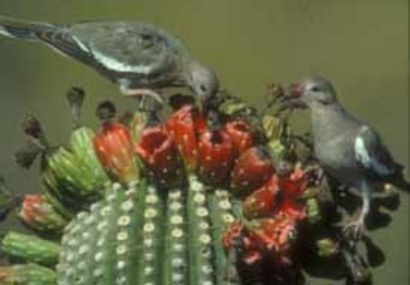 White-winged Dove (Zenaida asiatica)
During spring in the Sonoran Desert, the air is filled with the mating call of the white-winged dove. Their hoots and coos are so abundant that they sometimes drown out the sounds of other birds.
However noisy the white-winged dove might be, they play a very important role in the life cycle of the saguaro cactus. When saguaros flower, white-winged doves move from flower to flower, sipping nectar and pollinating the plant. Once the flowers become fruit, the doves have a new food source. The sweet fruit is filled with thousands of tiny seeds, which are consumed and digested. However, occasionally a dove feeding her young may inadvertantly drop a seed. If that seed is dropped while the dove is perched on a tree or bush, that tree or bush might become a nurse plant to the growing saguaro. Such a plant protects the young saguaro from extreme weather and animals and greatly increases its chances of survival.
Size: 11.5 in. Wingspan: 19 in.
Diet: Seeds and fruit
Last updated: July 7, 2017