Wildlife Interactions with Saguaros
Saguaro cacti are host to a great variety of animals. The gilded flicker and Gila woodpecker excavate nest cavities inside the saguaro's pulpy flesh. When a woodpecker abandons a cavity, elf owls, screech owls, purple martins, finches and sparrows may move in.
Large birds, like the Harris's and red-tailed hawks, also use the saguaro for nesting and hunting platforms. Their stick nests are constructed among the arms of a large saguaro. In turn, ravens and great horned owls may take over an abandoned hawk nest.
Saguaro cacti also provide a valuable source of food for animals. In early summer saguaro flowers provide nectar and pollen for bats that in turn pollinate the flowers. The Mexican Long-tongued and the Lesser Long-nosed bats are the two species that pollinate the saguaro at Saguaro National Park. In mid-summer, ripening fruit provides moisture and an energy-rich food for birds, bats, mammals, reptiles and insects during a time of scarcity.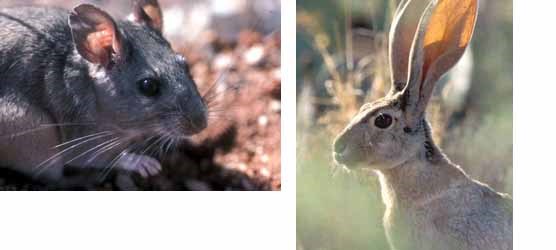 In drier areas of the SonoranDesert, pack rats, jackrabbits, mule deer and bighorn sheep will also eat the young saguaro's flesh when other water sources are not available.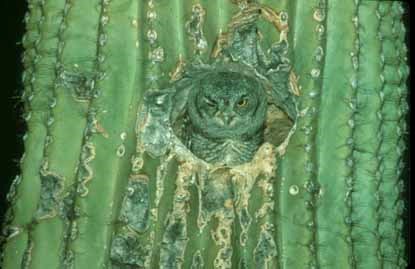 Last updated: February 24, 2015