Saguaro Roots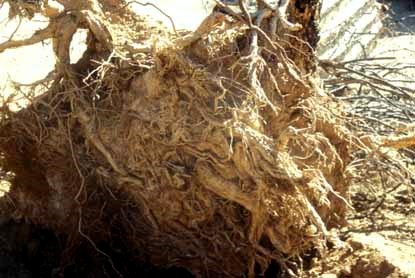 By the time a saguaro is four feet tall its roots have been growing for as many as 55 years and they stretch out four feet from the main stem in all directions, and three to five inches deep. The roots have special hairs on them that enable the collection of up to 200 gallons of water during a rainfall. This extensive root system is important to the saguaro for a couple of reasons. It helps keep a plant, which can weigh up to 8 tons at full size, standing upright. In the desert, rainstorms often come with high powered winds that can threaten a saguaro's ability to remain standing if in the soil becomes saturated.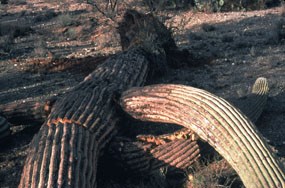 The ability of the roots to suck up water rapidly is also vital. Some summer monsoon rains last only a few minutes and with the hard surface of the desert floor, the water runs away very quickly, not allowing much time to soak into the soil.
Imagine now, how it would be for a newly transplanted saguaro. If its 50 year old roots are cut, it can take many years for them to grow back extensively enough for the saguaro to sustain itself. It is a gamble on whether it will be able to survive on its own once it uses up its stored water. An irrigated transplant has a better chance of surviving, so if you do obtain your permit to transplant a saguaro, be sure to consult a local nursery on techniques for care.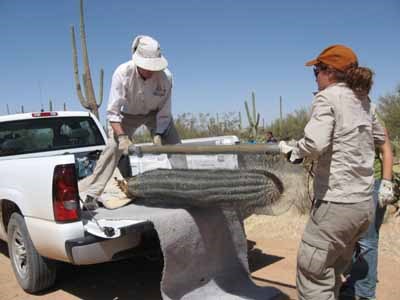 Last updated: February 24, 2015