Saguaro Census 2020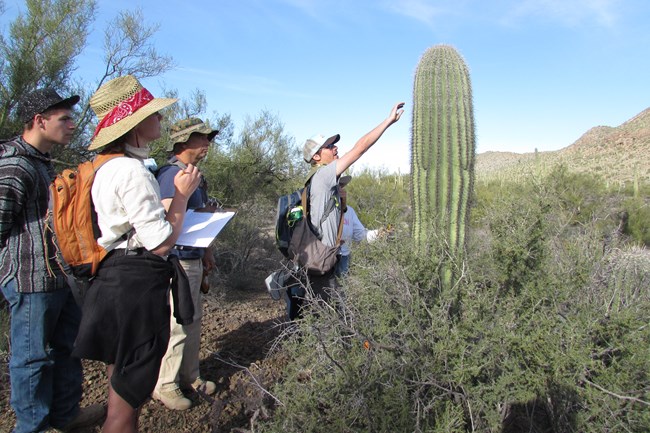 Why a Census?
Every ten years, Saguaro National Park leads a citizen science Saguaro Census to study the long-term health and vitality of the park's namesake cactus. Although we have studied saguaros at the park for many decades, beginning in 1990 scientists developed a new study to assess the overall conditions of saguaros across the entire park, including both the east and west districts. The saguaro census is meant to be repeated every ten years and coincides with the US Census. Beginning in late 2019 and continuing through late 2020, park scientists, staff, and citizen scientists will take data on tens of thousands of saguaros throughout the park.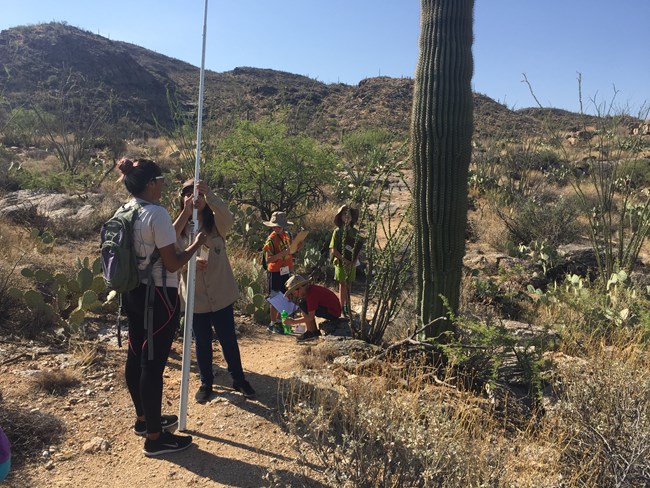 What Do We Learn?
These saguaro censuses teach us many things about our saguaro population. First, we know that the overall number of saguaros in the park seem to be increasing, from about 1.1 million saguaros in 1990 to 1.9 million saguaros in 2010. Of course, we didn't count almost two million saguaros back in 2010- those numbers are just based on mathematical estimates. Secondly, we have learned that many new saguaros germinated during an extended wet period in the 1970s and 1980s. Since then, the Sonoran desert has experienced a long drought in which very few new saguaros have sprouted. Studies like this one are vital to understanding these broader, long-term trends.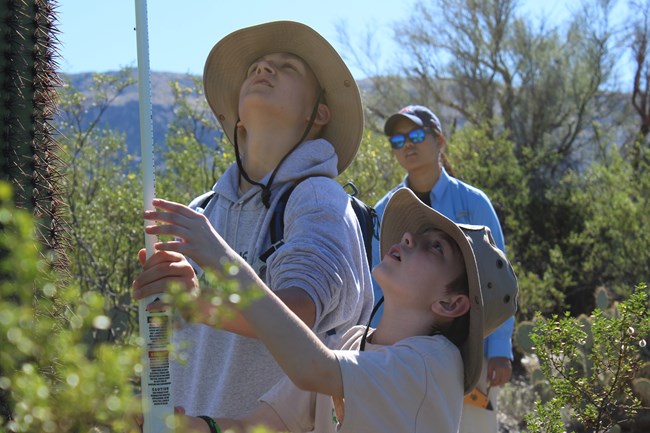 What is Citizen Science? Can I Get Involved?
Citizen science projects rely on the volunteer efforts of the general public, who come out to the park and work alongside our scientists to gather data and measure saguaros. When we measured almost 20,000 saguaros in 2010, we didn't do it alone; almost 300 volunteers came out over the course of a year to help out. Starting in late 2019, we will once again need individual and group volunteers to assist us in this huge project. We request that you have experience hiking, preferably in the desert, and have an interest in science and saguaros. If you are interested, please contact Don Swann by email at don_swann@nps.gov.

Prepare yourself before volunteering for the 2020 Saguaro Census!
Here is an informative brochure on
what to expect
.
Last updated: December 26, 2019