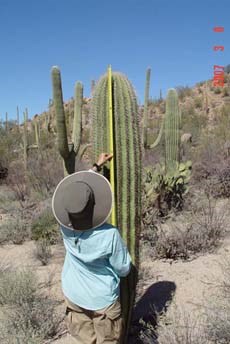 Every 10 years, Saguaro National Park leads a "Saguaro Census" of the park's namesake cactus. This effort helps us keep track of the health of the park's saguaro population and coincides with the U.S. Census. As the United States counts its citizens, we count our saguaros! The 2010 Saguaro Census took place between October 2009 and October 2010 with the help of over 300 volunteers.
You can take a look back at specific survey dates and plots for the 2010 Saguaro Census using our Saguaro Census Calendar. Click on the highlighted dates on each calendar to view the results and photos from past volunteer groups.
The Saguaro Census continues with a special survey of historic section 17. Follow the link below for more information.