Roadrunner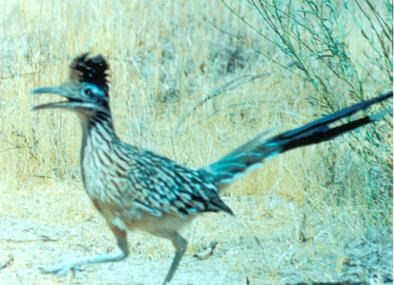 Roadrunner (Geococcyx californicus)
This large member of the cuckoo family is probably the most famous bird of the Southwest. It is also an effective predator. Though it rarely flies, the roadrunner can reach speeds of 15 mph, which allow it to catch fast moving prey like lizards and rodents. When moving at high speeds, the roadrunner uses its tail as a rudder.
The female lays eggs at intervals so that if there is a shortage of food, the younger birds are fed to the older hatchlings.
Length: 23 in. Wingspan: 22 in.
Diet: Small mammals, small birds, snakes, lizards, as well as some fruit and seeds
Last updated: February 25, 2015