Phainopepla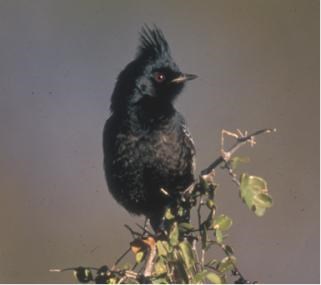 Phainopepla (Phainopepla nitens)
The phainopepla belongs to a small group of birds known as the silky flycatchers, but they are not related to true flycatchers. Their diet is primarily desert mistletoe. It disperses mistletoe seeds to host plants as the seeds pass through the birds' digestive system.
The male is shiny and black with a crest and bright red eyes, while the female is gray and also has red eyes.
Length: 7.75 in. Wingspan: 11 in.
Diet: Berries (especially mistletoe) and insects
Last updated: February 25, 2015