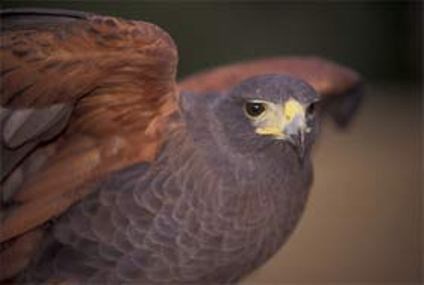 Harris's Hawk (Parabuteo unicinctus)
This common Sonoran Desert hawk is often seen in saguaro forests. Unlike most other hawks, the Harris's hawk lives and hunts in social groups. Most groups consist of a breeding pair and several non-breeding adult birds that help in feeding the young, defending the nest, and hunting. They hunt in groups to increase hunting success, sometimes surrounding prey to flush it out of deep brush.
Length: 20 in. Wingspan: 42 in.
Diet: Rodents, rabbits, snakes, lizards, and birds