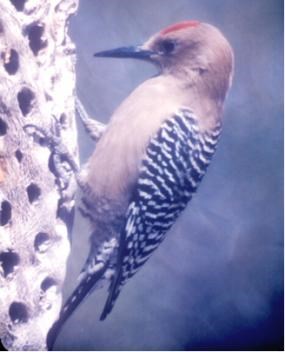 Gila Woodpecker (Melanerpes uropygialis)
This common Sonoran Desert woodpecker makes nest cavities in the sides of saguaros inbetween the skin and the inner ribs (the outer cortex) of the cactus. With the saguaro tissue serving as insulation, these cavities provide safety from predators and refuge from extreme temperatures. Abandoned woodpecker holes make great nests for elf owls, kestrels, and purple martins.
Length: 9.25 in. Wingspan: 16 in.
Diet: Insects, cactus fruit, and berries