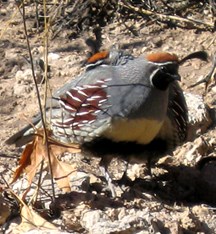 Gambel's Quail (Callipepla gambelii)
The Gambel's quail is easy recognized by the black, comma-shaped top-knot protruding from its forehead. This bird avoids extreme summer temperatures by being most active during the early mornings and late afternoons. It spends the hottest part of the day in the shade. If water is available, the Gambel's quail will drink daily; otherwise, it gets enough water to survive from eating insects and cactus fruit.
Gambel's quail usually nest on the ground, which can be a dangerous place for baby birds. All young hatch on the same day with their eyes open and covered with down. From that day forward, they are ready to follow (and keep up with) their parents.
Length: 10 in. Wingspan: 14 in.
Diet: Mostly seeds, some insects and fruit