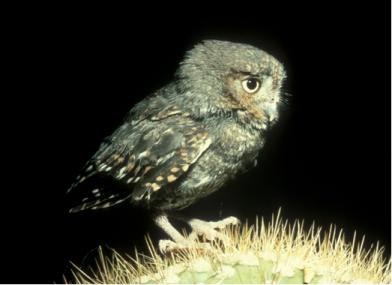 Elf Owl (Micrathene whitneyi)
This tiny, nocturnal hunter is also the world's smallest owl. Because of their size, elf owls feed chiefly on insects - usually beetles and moths. Elf owls nest in former woodpecker holes or cavities in trees and saguaros. Elf owls migrate to southern Mexico before the end of October and return to the Sonoran desert by March to breed.
Length: 5.75 in. Wingspan: 13 in.
Diet: Insects and arthropods