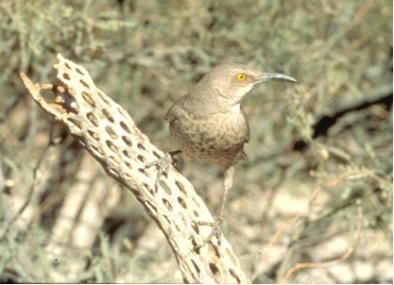 Curve-billed Thrasher (Toxostoma curvirostre)
The curve-billed thrasher is a large, grayish-brown bird with yellow eyes and a noticeably curved bill. A ground forager, the curve-billed thrasher uses its bill to flick aside and dig in the soil for insects and seeds. It builds a nest of twigs in cholla cactus, yucca, or mesquite and has been known to destroy cactus wren nests when nesting sites are in demand.
Length: 11 in. Wingspan: 13.5 in.
Diet: Insects, berries, and fruit