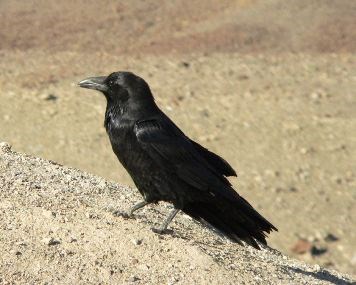 Common Raven (Corvus corax)
The common raven is the largest member of the corvid family (jays, magpies, crows, and ravens). Although the common raven is extremely difficult to tell apart from the Chihuahuan raven by sight, the Chihuahuan raven is often found in groups, while the common raven is often seen alone or in pairs. Extremely adaptable birds, they are found in diverse habitats from forests to cities to Arctic ice flows.
Length: 24 in. Wingspan: 53 in.
Diet: Carrion