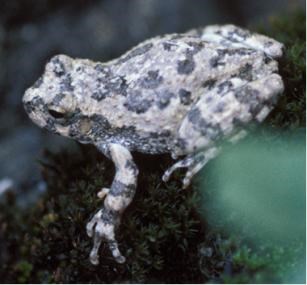 Canyon Treefrog (Hyla arenicolor)
This small treefrog has variable pattern and color which allow it to match the color of its background extremely well. Restricted to riparian areas (those among streambeds) in rocky canyons, the canyon treefrog is often found in groups among boulders, to which it clings using its large adhesive toepads. They avoid predators using their natural camouflage and by limiting movement to when a predator comes near.
Length: 1 ¼ - 2 ¼ inches.
Diet: Insects