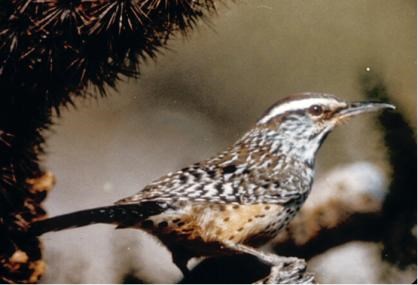 Cactus Wren (Campylorhynchus brunneicapillus)
Thanks to its curious nature and rough, abrasive calls, the cactus wren is one of the best known birds of the Sonoran Desert. It's the state bird of Arizona!
Both male and female birds construct the first breeding nest. Then, while the female is incubating the eggs, the male will construct a new nest that serves as a roosting nest for the adults. These roosting nests are important because they protect adult birds from predators and extreme weather. Roosting nests may be used as brood nests for later clutches, as cactus wrens often raise several broods a year.
Length: 8.5 in. Wingspan: 11in.
Diet: Insects and other arthropods, fruit, and seeds