Virtual Ranger Visits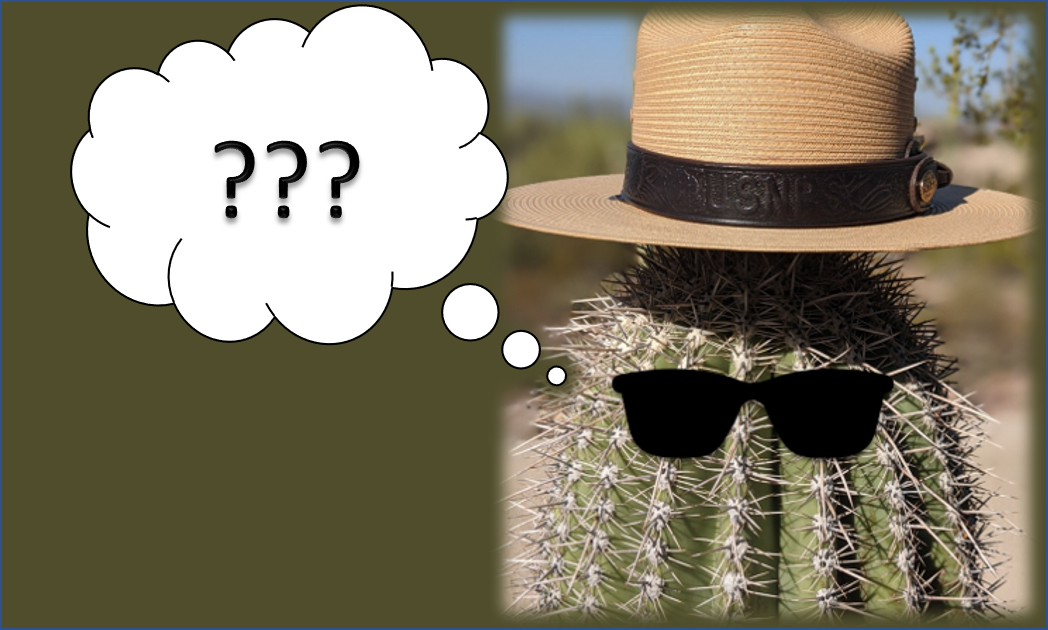 Reading Ranger &
Ask A Ranger
Programs
The Saguaro National Park Education Team is proud to offer free virtual visits to classes. Our Ask a Ranger and Reading Ranger programs cover a wide variety of topics- from Arizona history and the Hohokam to plants, animals and biodiversity. These interactive 30-45 minute presentations will allow students to discover the mission and work of the National Park Service and Saguaro National Park, and offer an opportunity for students to ask questions about our local ecosystem and history.
Program Schedule
Tuesdays, Wednesdays, Thursdays and Fridays

9:00am-9:45am
10:00am-10:45am
1:00pm-1:45pm
Reading Ranger Programs| 30 minutes |Grades K-1st
We have a wide variety of books we can offer for your program. You tell us what topic your class is studying, and we will select a book(s) to read to your class. We have created ways to make these books interactive by incorporating movements, hidden pictures, and relating to the social and emotional development of young students. Books are shown as slides to allow for better access to the words and illustrations.
Ask A Ranger Programs | 45 minutes | Grades 2nd-8th
Amazing Animal Adaptions
AZ Standards: 2.L2U1, 3.L1U1, 3.L2U1, 5.L4U3
Learn how our desert animals have adapted to our environment by learning a behavior or making a physical change. Presentation ends with a fun camouflage hide and seek challenge.
Unbe-leaf-able Plant Adaptations
AZ Standards: 2.L2U1, 3.L1U1, 3.L2U1
Through an interactive investigation of our desert leaves, students learn how some of our plants have adapted to the sunny and dry desert.
Hohokam Life
AZ Standards: 3.G1.1, 3.G2.1, 4.SP1.2, 4.G1.1, 4.G2.1, 4.G4.1.H1.1
Explore how the Hohokam, the prehistoric people of the Sonoran Desert, relied on their relationship and understanding of the desert to not only survive but thrive.
Biodiversity and Climate Change
AZ Standards: 4.L4U1 5.L3U1, 5.L4U3 6.L2U1
Biodiversity is important to the health of our ecosystems on a local, regional and planetary scale. Explore the current state of biodiversity in the park, the threats that affect it and how everyone play a role in protecting it!
Beautiful Bats
AZ Standards: 2.L2U1 3.L2U1
Find out how bats are important to the ecosystem, some of the bats you can find here in southern Arizona, and find out which bat personality you fit!
Saguaro National Water Park?
AZ Standards: 4.E1U3
Many people see the desert and think it's totally dry. Find out how much water is in Saguaro National Park and how it benefits the plants, animals and us!
Every Kid Outdoors
AZ Standards: CIVICS 1-4
Learn about why National Parks are important to preserve the natural and cultural resources of our country. Students explore a variety of National Parks, while learning about stewardship and what they can do to support the National Parks in their community! Students will receive a free public lands pass through the national Every Kid Outdoors program. Passes are available to current 4th and 5th graders and is valid through August 31, 2021.
Lost Carnivores Project
AZ Standards: 5.L4U3 6.L2U1
Students will investigate the declining population of small carnivores common in the Tucson Mountain District of the park. The kit fox, common raccoon, spotted skunk, hog-nosed skunk, and striped skunk have not been documented in the park since before the year 2000. It is hypothesized that small carnivores may be particularly at risk to declining population due to increasing urban sprawl in the areas surrounding the park. The Lost Carnivore Project is a joint effort between biologists and students to find out if the mammals are still in existence in the Tucson Mountains.

For registration information, follow the Contact Us! link below.
Contact Us!
For more information on our virtual programs,
email
our Education Team and one of our staff members will be happy to assist you. Please list
Education Programs
in the subject line. We look forward to working with you!
Last updated: December 30, 2020