Plan A Classroom Visit
COVID-19 Updates
Public programs are canceled in accordance with CDC and local public health guidance in response to the COVID-19 virus outbreak.

We will be following the CDC and current local guidance on schools returning to in-person learning and the permission of field trips or classroom visits. Once field trips and classroom visits are allowed, we will update our strategies to keep your students and our staff safe in accordance to the guidelines provided by the CDC and local public health guidance at that time. Until then we will be offering virtual visits
Virtual Visits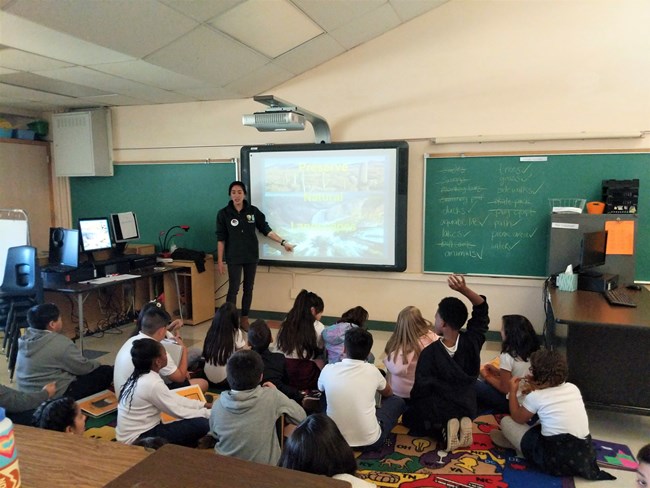 Invite a Ranger to your classroom!
Our Travel Trunk programs are 45-minute interactive presentations designed to enhance your in-class curriculum. These programs meet Arizona state standards and are free of charge thanks to the Friends of Saguaro National Park.
Available year round
Group size: 1 class
Travel Trunk Descriptions:
The Saguaro Hotel (Kindergarten)
Some come to stay for a season, some for an evening, some just come for dinner, and some never leave! Explore the spiny world of the animals that live in, on, and around our world-famous desert symbol, the Giant Saguaro!

Desert Creepers (Grade 1)
They slither, they scuttle, they stink, they sting and they are important to our desert ecosystem! Meet the slimy, scaly, and spidery residents of Saguaro National Park. Our interactive classroom discovery of these misunderstood creatures is a non-threatening presentation with specimens, models, and soft-sculptures, movement activities and games.

Desert Mammals (Grade 2)
Investigate the furry critters of the desert and mountains of the Sonoran Desert right in your classroom! Students will their observation skills to study an animal skull and learn which desert mammal it belongs to through an interactive presentation.
Beautiful Bats (Grade 3)
That's right, beautiful! And a best friend to saguaros & people. Find out how bats can see with their ears & live on nectar. With games, crafts, and stories, we separate fact from fiction and share the bat's mysterious world.

Hohokam Life (Grade 4)
Learn how the Hohokam people thrived in the desert over 1,000 years ago! During this interactive presentation, students will have the chance to look at models of Hohokam shelters, pottery, how they got food and make their own petroglyph!
Every Kid Outdoors (Grade 4)
Learn about why National Parks are important to preserve the natural and cultural resources of our country. Students explore a variety of National Parks, while learning about stewardship and what they can do to support the National Parks in their community! Students will receive a free public lands pass through the Every Kid Outdoors program.
Wilderness Explorers (Grade 5)
Explore the backcountry of your playground when we set up our tent for this look at Wilderness safety, equipment, and "leave no trace" ethics. In addition to demonstrating many of the techniques of safe backcountry recreation, we'll engage kids in a fun equipment relay.

Contact Us!
For more information or to schedule at Travel Trunk,
email
the Education team and one of our staff members will be happy to assist you! Please list
Education Programs
in the subject line. We look forward to working with you!


Last updated: October 14, 2020