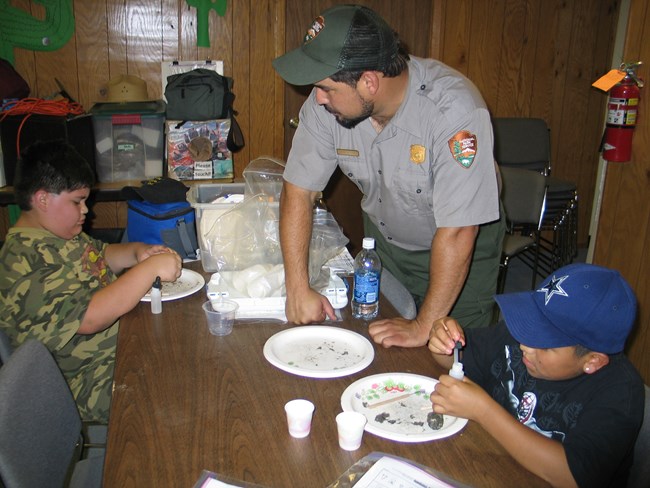 Invite a ranger to your classroom! We bring the material and do the program.
Teachers looking for a presentation to augment an existing science or desert unit may request one of our Traveling Trunk Programs. These 45-minute presentations are designed to enhance your in-class teachings. These programs meet State Science and/or Social Studies Standards and are free of charge thanks to the Friends of Saguaro National Park.
Group size: 1 class (up to 30 kids)
Travel Trunk Descriptions:
The Saguaro Hotel (Kindergarten):
Some come to stay for a season, some for an evening, some just come for dinner, and some never leave! Explore the spiny world of the animals that live in, on, and around our world-famous desert symbol, the Giant Saguaro!

Desert Creepers (Grade 1):
They slither, they scuttle, they stink, and they sting. Meet the slimy, scaly, and spidery residents of Saguaro National Park. Our classroom discovery of these misunderstood creatures is a non-threatening presentation with specimens, models, and soft-sculptures.

Skins & Skulls: Desert Mammals (Grade 2):
Track down the furry critters of the desert and mountains of the Sonoran Desert right in your classroom! This program includes a tracking game and worksheets and hands-on introduction to mammals with pelts, skull models, and soft-sculptures.
Beautiful Bats (Grade 3):
That's right, beautiful! And a best friend to saguaros & people. Find out how bats can see with their ears & live on nectar. With games, crafts, and stories, we separate fact from fiction and share the bat's mysterious world.
Shopping at Hohokam Mall (Grade 4):
Join us for a prehistoric shopping trip. While we won't use cash or credit cards, we'll pick up all the necessities of desert life! Take a look at the many uses of desert plants as we turn back the clock a thousand years in Arizona history to the days of the Hohokam people.
Wilderness Explorers (Grade 5):
Explore the backcountry of your playground when we set up our tent for this look at Wilderness safety, equipment, and "leave no trace" ethics. In addition to demonstrating many of the techniques of safe backcountry recreation, we'll engage kids in a fun equipment relay.

For more information or to schedule a classroom program, contact our Education Coordinator, Chip Littlefield.