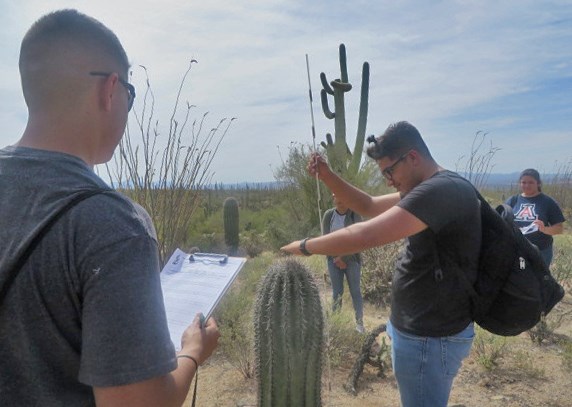 Saguaro Plot Survey: Scientific studies surrounding the saguaro (7th grade and up)
The Park monitors saguaros through a Saguaro Census, a citizen science project conducted every 10 years. This curriculum-based program, with a focus on real, citizen science, will build on the Saguaro Census research program for 7th grade science classes. Students will gather scientific data on saguaros that will benefit the park's long-term monitoring program, tie into a climate change research, and provide the student with a wilderness experience. Students will survey saguaros and collect data in the field that will assist park researchers who are determining the current status of saguaros in the park. Tools that students will use include the following; GPS units, clinometers, digital cameras, Kestral mini weather stations, and compasses. The off-trail hike through rugged terrain will not only provide an opportunity for them to make a personal connection to nature, but will also expose them to Leave No Trace concepts. Classes are encouraged to have lunch in the picnic area after the program. A classroom pre-visit, one week prior to the field trip, prepares the students with the base knowledge to enhance their park experience and provides them for the field trip.
Available: October to April, 9:30a.m.-12:00p.m.
Group Size: 1 class