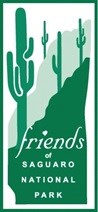 Friends of Saguaro National Park
From their website...
Friends of Saguaro National Park is the not-for-profit fundraising partner of the National Park Service at Tucson's Saguaro National Park, working to help the public . . .
Discover Saguaro - by reconnecting children and nature, and encouraging the exploration and discovery of the resources, heritage and recreational opportunities of the Park;
Protect Saguaro - by assisting the preservation and conservation of the natural and cultural resources of the Park, and sustaining its wilderness character; and
Support Saguaro - by strengthening community partnerships, and building environmental stewardship through philanthropy, public education, and volunteerism.
For more information, please visit www.friendsofsaguaro.org
Robert Newtson, Executive Director
Friends of Saguaro National Park
2700 North Kinney Road
Tucson, AZ 85743
(520) 733-8610
fosnp@friendsofsaguaro.org