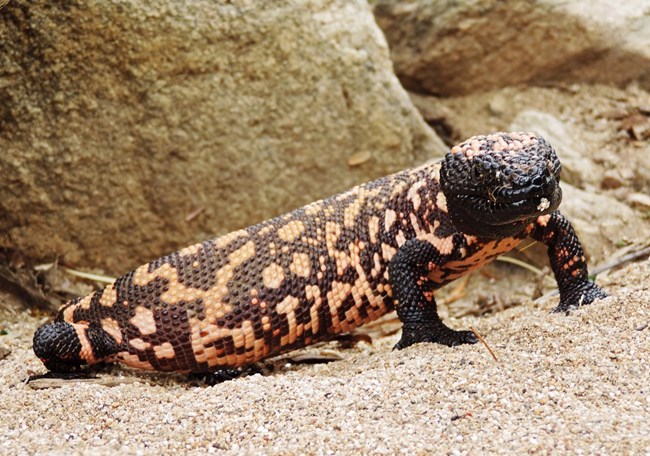 Research Highlights
Citizen Science Photo Study
- Since 2005, we have received more than 350 photos of Gila monsters, 176 by "citizen scientists"
- More than 225 of these photos are of individuals photographed more than once.
- A total of 153 unique individuals have been identified.
- So far, the longest lived Gila monster (named "Ward") was first photographed in 2001 and rephotographed 12 years later in 2013!
- One Gila monster (named "Emma") has been photographed eight times!
Genetic Study
- Genetic samples (usually mouth swabs) have been collected from more than 100 Gila monsters.
- High genetic diversity found, suggesting a robust, well-connected population.
- We estimated 731 individual Gila monsters in a 16.2 square mile (42 square kilometer) area - approximately 45 Gila monsters per square mile.
- Gila monsters are "elusive but not rare" - the population is larger and healthier than expected, suggesting that National Park and state protections are successful in protecting this species.
Radio Telemetry Study
- Gila monsters spend much of their time underground, as expected.
- Average recent home range size for Gila monsters in the park is approximately 64 acres (26 ha).
- However, home ranges within a year is much smaller, indicating that individuals will sometimes shift their activity areas, perhaps due to weather or food availability.