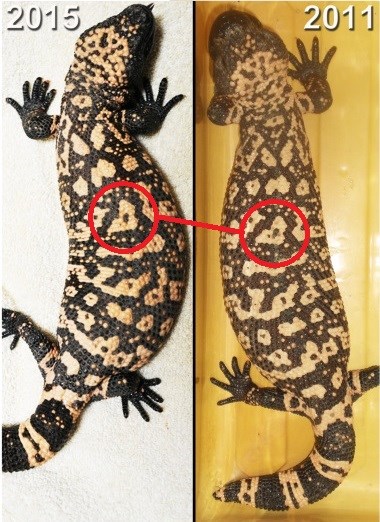 Once a photograph is received, it is placed into a database and embedded with information such as the location where the Gila monster was photographed and the date. This information is used to attempt to match the photo with known individuals in that same area. If a match is found, then we have additional information about the home range of that individual. If there is not a match for the photo, then it will be labeled as a new individual. All photos within and near the Park boundaries are valuable in gaining information about Gila monsters.
Collecting Data
A large amount of information can be gathered from a photo. We encourage all visitors to the park to become citizen scientists by taking a photo of a Gila monster. It is important that this photo be taken from a safe distance. An ideal photo would be one with the entire back of the Gila monster visible and in focus, but only attempt this if it is safe to do so.

Along with the photo, include the following
1. time
2. date
3. location (Trail junction, mileage, GPS coordinates, etc.)
The higher the quality of the photo and the more specific the location, the better! These photos can be sent to the project by
email
.