The Stone Arch Bridge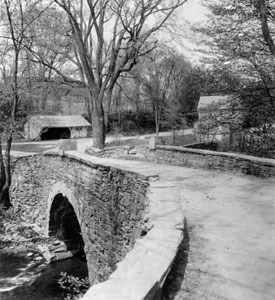 Historic Stone Arch Bridge Restoration
Stone Arch Bridge Repaired in 2008
Cornish, NH: In 2008, Saint-Gaudens National Historic Site obtained National Park Service funding to restore the north side of the historic Stone Arch Bridge located near the junction of Route 12A and Saint-Gaudens Road. Repairs were needed as the bridge wall was buckling and in danger of collapse.

Restoration work began in April 2008, and continued through the summer. Repairs included rebuilding the stone parapet wall and a large portion of the adjacent retaining stone wall, as well as much of the brickwork on the underside of the stone arch. The project was done by Lumus Construction Company of Woburn, Mass. and Fielder and Callahan of Claremont, N.H. When completed, the north side of the bridge was restored to its original historic appearance. The south side stone arch façade and parapet of the bridge was covered by fill in the late 1950s when the State of New Hampshire substantially realigned Route 12A at this location, and extended the length of the original culvert to its current configuration.
Originally, the bridge over Blow-Me-Down Brook was intended to be made of wood. Charles Cotesworth Beaman, Jr. (1840-1900), who owned the nearby Blow-Me-Down Farm and surrounding land, arranged with the Town of Cornish for a stone arch bridge to be built instead, with Beaman paying the difference in cost. The bridge was designed by Joseph Wells of the famed architectural firm of McKim, Mead, and White in New York City. The project was completed in 1888, and Beaman finished construction of his adjacent grist mill in 1891. Charles Beaman was the first of the "summer people" in Cornish. His encouragement hastened the arrival of numerous artists, performers, writers, architects and authors to the area, forming what became known as the Cornish Colony. The bridge and historic mill are now a part of Saint-Gaudens National Historic Site that features the studios, home, and gardens of the sculptor, Augustus Saint-Gaudens (1848-1907), and is the only National Park Service site in New Hampshire. The Blow-Me-Down nature trail leads from the back side of the Mill and the remaining north side façade of this bridge to the historic core of the sculptor's home and studios.
Last updated: March 31, 2012