Summer Concerts
Saint-Gaudens Summer Concert Series
b These annual concerts are generously sponsored by the Trustees of the Saint-Gaudens Memorial. with additional support of donors and partners. The performances carry on a tradition by Augustus Saint-Gaudens, who often held concerts in his studio for family and friends.

b Concerts are held on Sundays at 2pm, in the Little Studio at Saint-Gaudens National Historic Site during the summer months. Chairs are available on the pergola and in the studio on a first come/first served basis. Visitors are welcome to picnic on the lawn adjacent to the Little Studio. Concerts are held rain or shine.

b Concerts are included with normal paid admission to the site. There is no additional charge. ► Download the concert brochure.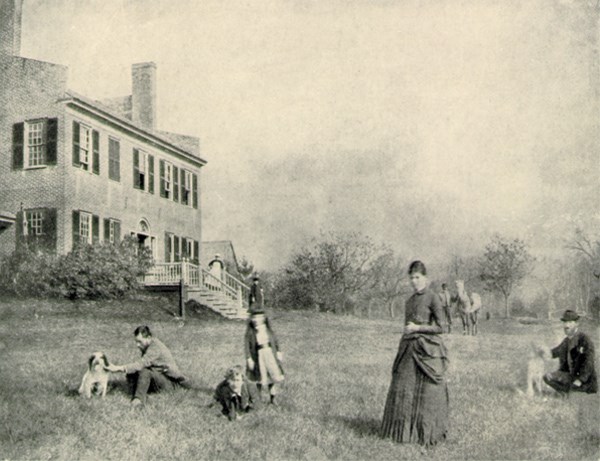 2019 Summer Concert Series
bThe following concerts are Sundays at 2pmb
June 23
Acacia Trio
American Creative Icons: Music of Copland, Bernstein, and more
June 30
Layale Chaker
, Chamber music with a fresh approach for violin and cello
July 7
Family Picnic Day
Contradance with David Millstone and music by Blind Squirrel
July 14
Bassel and the Supernaturals*
Soulful Chicago-based blues and funk band
July 21
Fischers and the Jennings
Classical chamber music for violin, cello, and piano
July 28
Kinan Azmeh, Dinuk Wijeratne, and City Band

*
Music at intersections with classical, jazz, and Syrian and South Asian sonorities
August 4
Aardvark Jazztet

*
Memory, Hope, and Freedom: An Imaginative Celebration of Saint-Gaudens's Shaw Memorial, with works by Ellington and Harvey. Performance in honor of Lawrence J. Nowlan, Jr.
August 11
Celebrating 100 Years (1919-2019)
Music from historic moments of the Saint-Gaudens Memorial, classical, popular, and beyond
August 18
Gerry Grimo and East Bay Jazz
Showtunes and the Great American Songbook
August 25
14th Annual Rosamond Edmondson Memorial Concert—Delphi Trio

*
A First for Everything: Music of Beethoven, Takemitsu, Mendelssohn, and Bolcom
* 2-day Music Experience concert in collaboration with WCC-MA.org
Concert Frequently Asked Questions
What is the history of the Saint-Gaudens Memorial Concert Series?
Each year the Saint-Gaudens Memorial sponsors a series of summer concerts at the site, an annual event since 1946. The performances carry on a tradition of Augustus Saint-Gaudens, who often held concerts in his studio for family and friends. Many of the concerts feature use of the Little Studio's historic piano, once owned by Cornish Colony painter Maxfield Parrish.
How do I get to the park?
The park is located at
139 Saint Gaudens Road
Cornish, New Hampshire, 03745
This is just off of NH route 12A, 12 miles south of West Lebanon, NH
See

https://www.nps.gov/saga/planyourvisit/directions.htm

for further details.
Where do I park?
Three parking areas are available during concerts. Visitors with different needs can choose a lot based on their circumstances. Below is a description of each of the lots, their features and accessibility information:
Lower Field: The Lower Field is the main parking location during concerts, and includes several spots reserved for visitors with accessibility needs. A staff person is stationed at the entrance to this lot beginning at 12:30pm, and can assist with directions and support. An electric, multi-passenger vehicle shuttles visitors to and from the parking lot to the concert area every few minutes. There is an accessible restroom available directly adjacent to this lot. During the concert, the shuttle is stationed at the welcome tent located proximal to the Little Studio and is available on request for accessing restrooms or returning to the cars.
Additional Accessible Parking: There are a small number of accessible spaces along the hedges near the Visitor Center. This parking location is most convenient for people wishing to go to the Visitor Center, which features a timeline of Saint-Gaudens' life, screening of the close-captioned park film, restrooms, and the park store. The Visitor Center building is air conditioned. The most direct path from this parking location to the concert area traverses a small brick pathway with uneven surfaces and involves three small sets of stairs (approximately 250 to 350 feet total distance). There is a longer path that follows accessible grades along an open mowed grass field and around the Little Studio (approximately 690 feet total distance).
Main Parking Lot: The main parking lot typically fills early during concert events. It features an accessible-grade path towards the park facilities, which then crosses Saint-Gaudens Road (look for traffic), and a moderate slope up to the Visitor Center (total distance of

662 ft on hardpack and paved surface

). There are accessible restrooms directly adjacent to the parking lot, accessed by a wooden, accessible-grade ramp. The most direct path from this parking location to the concert area at the Little Studio includes crossing Saint-Gaudens Road, and navigating a set of stairs (7 steps) and traversing a slightly sloping mowed grass field (total distance approximately 430 ft).
How much does it cost to attend the concert?
Upon arrival on a concert Sunday, visitors are asked to stop by the white welcome tent on the lawn west of Aspet and south of the Little Studio, in order to pay the entrance fee or show a pass.
Entrance fees for Saint-Gaudens National Historical Park are as follows:
$10/person for a 7 day pass

Children ages 15 and under are free

$40 Saint Gaudens Annual Pass (good towards park entrance for one year for passholder and up to three accompanying adults)
The park also makes available a variety of annual and lifetime passes, which waive the entrance fees at federal public lands across the US for the passholder and up to three accompanying adults:
$80 Annual Pass (for all)

$80 Lifetime Senior Pass (for ages 62+)

$20 Annual Senior Pass (for ages 62+)

FREE Active Duty Military Annual Pass (requires proof of active duty status)

FREE Lifetime Access Pass (requires documentation of a permanent disability)

FREE 4th Grade Pass (student must first complete online activities)

For more information about the above passes and their specific requirements, see:

https://www.nps.gov/planyourvisit/passes.htm
Sunday concerts are supported by the Saint-Gaudens Memorial, and paid for through sponsorships, grants, and private donations. There is presently no additional cost to attend concerts, beyond the park entrance fee.
What is the concert venue like? Do I need to bring a chair?
Most concerts take place in the Little Studio, or on the adjacent outdoor Pergola. There is a large expanse of lawn, as well as formal gardens, in front of the performance area. Evergreen hedge walls define the north edge of the concert area, and a handful of apple trees dot the grounds. Visitors are welcome to sit in any of the park's public outdoor spaces during the concert.
Folding chairs are set up inside the Little Studio, as well as outside on the Pergola. These seats are available on a first-come-first-served basis, and may fill up well before the concert begins at 2pm.
Accessible Seating: A number of chairs are reserved for visitors with accessibility needs. These seats are located both inside the Little Studio (when concerts take place within the building) and outside on the Pergola. They are clearly labeled with the accessibility symbol. Though reserved for visitors with accessibility needs, the seats are first-come, first-served.
Concert-goers are also welcome to bring blankets or lawn chairs and set up on the park grounds. Shade is limited. Come early for the best choice of seating options, and be prepared for sun or rain in the less sheltered sections of the concert area.
When do the concerts start? When should I arrive?
The concert begins at 2pm with announcements from the National Park Service and the Saint-Gaudens Memorial, followed by the musical program. Most concerts have an intermission mid-way through the performance, and end around 4pm.
Many concert-goers arrive at the site several hours early to enjoy the gardens, sculptures, and historic buildings. Others come early to picnic on the grounds, or secure a seat close to the musicians.
What should I know about picnicking at the park?
The park does not offer any food or beverage services, but visitors are welcome to bring their own food and beverages to picnic on the park grounds - during concerts, and at other times as well. Consuming food is not permitted on the West Porch of Aspet, inside the Little Studio, or in any other gallery or historic building space, in order to protect these important cultural resources.
Drinking Water. Water is available to the public at the Visitor Center, where there is a drinking fountain/water bottle filling station. Additionally, there are water coolers stationed on the Pergola of the Little Studio. Visitors are encouraged to bring their own water and other drinks, as there are no pre-packaged beverages available for purchase on site.
Alcohol. Visitors may bring alcoholic beverages for personal consumption in alignment with state and federal laws. Underaged drinking or drunk and disorderly conduct will result in the park calling local law enforcement.
Pack-in/Pack-out. We encourage concert goers to practice pack-it-in/pack-it-out picnicking during concerts. Please plan to remove all trash and recycling and dispose of it in appropriate facilities off-site.
Where are the restrooms?
There are three public restroom locations at the site:
At the Visitor Center. The Visitor Center offers fully accessible restrooms and is located approximately 150 to 250 feet from the accessible parking area or approximately 500 feet from the Little Studio via a small brick pathway with uneven surfaces and three small sets of stairs.
Adjacent to the main parking lot. A restroom using composting toilets is located immediately adjacent to the main parking lot, and is accessible via a wooden ramp. (See directions to the main parking lot above.)
In the lower field parking lot, where most concert visitors park. The restroom is just west of the parking area, and is a single, accessible porta-let.
During the concert, the shuttle vehicle is stationed at the welcome tent located proximal to the Little Studio and is available for accessing the lower field restroom or returning to the cars.
First-aid and Assistance:
The Cornish Rescue Emergency Medical Services team is present at most concerts. They are stationed at the West Porch of Aspet, are in communication with park staff, and will respond to any medical incidents that arise.
Can I bring my pet?
Pets, defined as dogs, cats, or any other animal that has been domesticated, are prohibited from entering any historic buildings, including the Little Studio. During concerts, they are not permitted in the seating area of the Pergola, for the safety of other visitors. Pets that cause disturbance during the performance (such as excessive barking) must be removed from the concert area. At all times, pets must be restrained by a fixed leash of no more than 6 ft, and under the control of their owners. Pet excrement must be picked up immediately, placed in a containment device, and disposed of properly in a trash can or removed from the site.
Service animals, defined as animals that have been individually trained to do work or perform tasks for an individual with a disability, are exempted from the above access restrictions for pets, and may accompany the individual they are serving wherever they go on site.
Can I bring a camera? What is the photography policy?
Unless stated otherwise during pre-concert announcements (due to artist restrictions), still photography is permitted during concert performances. Filming or audio-recording of concerts is prohibited.
For the safety and concentration of performers, and for the experience of other visitors, no flash photography is permitted and only silent-shutter camera systems should be used. For some concerts, barriers may be set up in the Little Studio or on the Pergola in order to establish a performance space. Musicians, technical staff, and uniformed NPS representatives only are permitted beyond these barriers. We ask that visitors do not cross the barriers at any time, and that visitors seated in the Little Studio and on the Pergola minimize the frequency with which they stand up and move around during the concert.
What happens in a weather event?
The Memorial is committed to honoring its performance calendar. Within safety parameters, performances will take place in all weather, rain or shine. Concerts may be cancelled in a severe weather event either due to extreme heat or thunderstorms.
Extreme Heat. Concerts will typically proceed as planned on hot days. We ask concert-goers to consider their own comfort and safety when deciding whether to attend a concert when the temperature is high. There is limited shade in the concert area, and the only public building with air conditioning is the Visitor Center. Visitors who choose to come on hot days should be mindful of drinking water and maintaining a healthy electrolyte balance. Hats, loose and light clothing with ample skin coverage and/or application of sunscreen are recommended on all concert Sundays to protect against UV radiation from the sun. The park will cancel a concert if the forecast calls for a heat index over 100 degrees Fahrenheit. Please call the park the morning of the concert to check on the cancellation status before starting your journey at 603.675.2175. Cancellation information will also be posted on the park's Facebook feed.
Thunderstorms. "When thunder roars, go indoors." If lightning with audible thunder is observed in the area of the concert, we advise visitors to seek shelter immediately. Visitors should proceed into the Little Studio, the Visitor Center, or return to their cars.
There are no refunds, exchanges, or rain checks given if the concert is cancelled mid-performance due to a weather event.
Accessibility:
Information regarding accessible parking, restrooms, and seating is outlined above in each of the relevant sections for the benefit of all visitors. If you have any additional questions about accessibility at the park, please contact us at (603) 675-2175.
Last updated: May 12, 2020