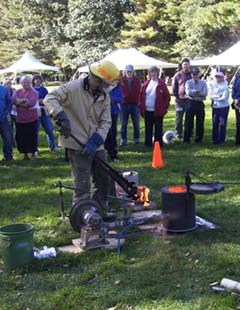 On Saturday, September 30, 2017, from 11:00 am to 4:30 pm, Saint-Gaudens National Historic Site in Cornish, N.H., will hold its twelfth annual Sculptural Visions event celebrating the many forms of sculpture. Visitors can interact with artists demonstrating different sculptural techniques, such as modeling with clay, carving wood and stone, working with metal and wire, and using mixed media to create a sculpture. At 1:00 and 3:00 pm, two sculptures will be cast in bronze during a demonstration of bronze casting.

Throughout the afternoon there will also be hands-on sculpture activities for all ages working with clay, metal and foil. The park and event will be free admission all day, and will happen rain or shine.

Glen Campbell, owner of an artist foundry in West Rutland, Vermont, and utilizing a portable furnace, will cast two bronze sculptures using the ancient "lost wax" bronze casting method. This was the same process used by Augustus Saint-Gaudens to cast everything from his beautifully detailed portrait reliefs to heroic-size public monuments such as the Shaw Memorial, Farragut Monument, and Adams Memorial, all of which can be seen at the park. Actual casting demonstrations like this are seldom seen by the general public.