Mammals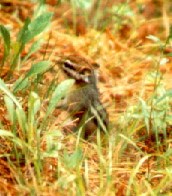 The brooks, ponds, numerous seeps, fields, and woodlands offer plenty of shelter and habitat for the more than thirty mammal species found at Saint-Gaudens NHS. Some of the more common sightings are of White-tailed Deer, Eastern Chipmunks, and Gray Squirrels. Less frequent sightings of mink, fisher, and beaver are possible around the Mill Pond and its tributaries. On rare occasions Moose or Black Bear may be seen. Also present in the park are several types of mice and shrews along with Eastern Coyote, Woodchuck, Porcupine, and Red Fox.
Bats
Bats are an important part of ecosystems and food webs. Though some species of bats feed on fruit, seeds, or pollen, all of the species that live in the Northeast are insectivores. They consume huge numbers of insects every night, filling a unique ecosystem role as nocturnal insect predators. Unfortunately, a new disease called
white-nose syndrome
is affecting bats across the United States. To better protect bats, scientists are studying how local bat populations are changing.
> Read
this article on
Bat Population Monitoring at Saint-Gaudens National Historic Site


Last updated: September 24, 2018