COVID-19 Safety at the Park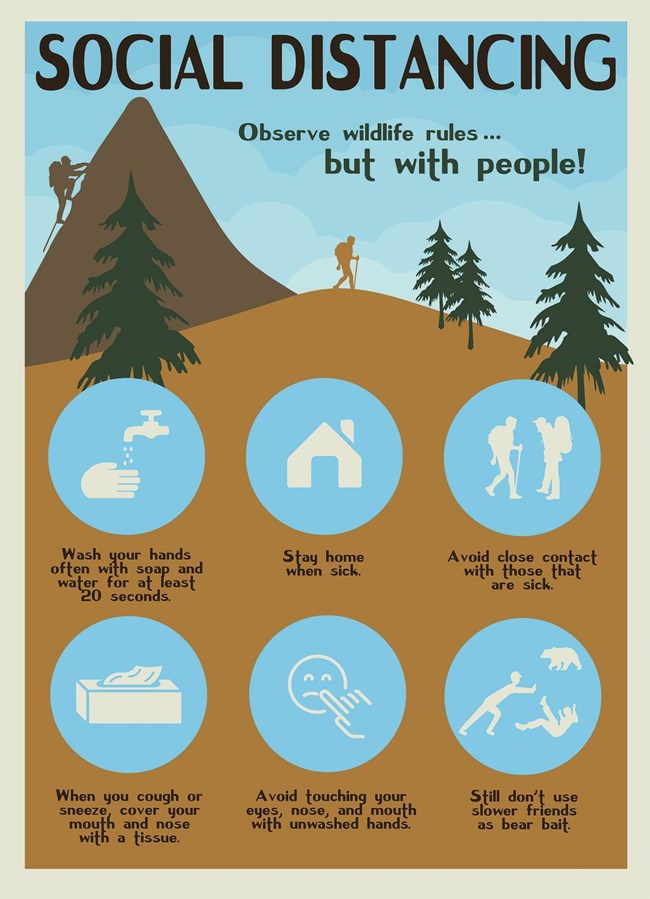 The health and safety of those who visit and work in national parks continues to be paramount, which is why we ask visitors to be our partner in adopting social distancing practices. The CDC has offered guidance to help prevent the spread of infectious diseases while enjoying the outdoors.
When recreating, the public is encouraged to follow local area health orders, practice Leave No Trace principles, social distance and avoid high-risk outdoor activities. In some circumstances during these initial phases of resuming operations, visitors should be prepared for limited access to services. There are no public restrooms or trash receptacles available in the park at this time.
We urge visitors to park only in designated areas, pack out everything you bring into a park, plan a visit at times other than busiest of the day, maintain social distance from other visitors, and if you encounter a crowded trail-head or overlook, seek another location to recreate.  
Dogs are welcome and must be on a 6 ft or shorter leash at all times while in the park. This is for the safety of your dog, since bears and porcupines also call the park home; the safety of our wild animals; and the safety and comfort of other park visitors since not everyone is comfortable around unleashed dogs, no matter how friendly. Please pick up after your pet and pack the waste out with you.
Finally, ticks are active, so dress accordingly and check yourself and pets thoroughly after any outdoor excursion.
We are also encouraging visitors to find their virtual park! Explore national parks from the comfort of anywhere in the world through online galleries of photos, videos, webcams, podcasts, and sound recordings.
Last updated: May 11, 2020