Date & Time

Multiple Days: 03/19/2017, 03/26/2017, 04/02/2017, 04/16/2017, 04/23/2017 11:00 AM to 11:45 AM

Fee Information

Ship Admission: $10, Free for 16 and under

Contact Us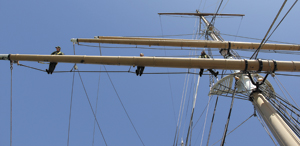 Join park rangers on board the sailing ship Balclutha for aloft demonstrations about the work of sailors in the rigging. Whether it be setting and furling sail or celebrating a hallmark occasion, working aloft could involve toil and fear or joyousness and excitement. 
If it is windy or stormy the program may have to be cancelled. Please call the Visitor Center Information Desk, 415-447-5000, to make sure the program will be happening.