Date & Time

Multiple Days: 06/10/2016, 06/11/2016, 06/17/2016, 06/19/2016, 06/24/2016, 06/25/2016, 07/01/2016, 07/08/2016, 07/09/2016, 07/15/2016, 07/16/2016, 07/22/2016, 07/23/2016, 07/24/2016, 07/29/2016, 07/30/2016, 08/05/2016, 08/07/2016, 08/12/2016, 08/13/2016, 08/19/2016, 08/26/2016, 09/02/2016, 09/03/2016, 09/10/2016, 09/24/2016, 10/01/2016, 10/15/2016, 10/29/2016, 11/05/2016, 11/12/2016, 11/19/2016 12:30 PM to 4:00 PM

Fee Information

Adult $40; Senior (62+) $30; Child (6-15) $20; Under 6 free with adult.

Contact Us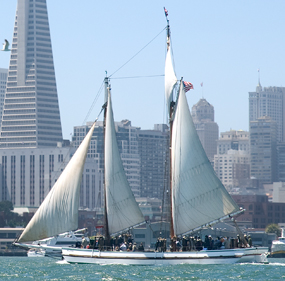 Take in dazzling views while park rangers tell stories about California history: Native Americans, Spanish explorers, the Gold Rush, lighthouses, the Barbary Coast, Fisherman's Wharf, earthquakes, fires, shipbuilding, and more.
Before highways and bridges, hundreds of scow schooners like Alma plied San Francisco Bay, hauling goods as the "flatbed trucks" of their day. The last of her kind, the 60-foot Alma will transport you to a long ago era on this unique educational program with the National Park Service.
Departs from: Hyde St. Pier, at Hyde and Jefferson Streets, San Francisco Maritime National Historical Park

Boarding: 12:30pm
Program length: 1:00 - 4:00pm
Reservations and Tickets: Beginning soon, reserve at http://www.recreation.gov/tourParkDetail.do?contractCode=NRSO&parkId=72466 and enter San Francisco Maritime in the search box, or call 1-877-444-6777. Limited spaces may be available at the Hyde Street Pier ticket booth on sailing days, 9:30am-Noon.

Rates: $40 adult, $30 senior (62+), $20 ages 6-15, under six free with adult.
For information on Alma please call the Park Visitor Center information desk at 415-447-5000, 9:30am to 5pm daily.
Additional information:     
• U.S. Coast Guard certified vessel
• Maximum 37 passengers per trip
• Trip may be cancelled due to weather, or other safety concerns, at discretion of the captain.
• Vessel is wheelchair accessible with assistance.

Varied conditions possible - be prepared for cold, wind, spray and bright sun.

Provided: life jackets and flotation devices

Bring: water (no alcohol permitted), snacks, hat, sunscreen, sunglasses, layers of clothing (for warmth and water resistance), closed toe "active" footwear (no high heels), camera, binoculars, and a sense of adventure!  
Park website: www.nps.gov/safr
Park facebook page: www.facebook.com/SanFranciscoMaritimeNHP
Click here to view a short video of ALMA on the Bay.