Free Festival of the Sea Returns to Hyde Street Pier
Date & Time

08/20/2016 9:30 AM to 5:00 PM

Fee Information

Free

Contact Us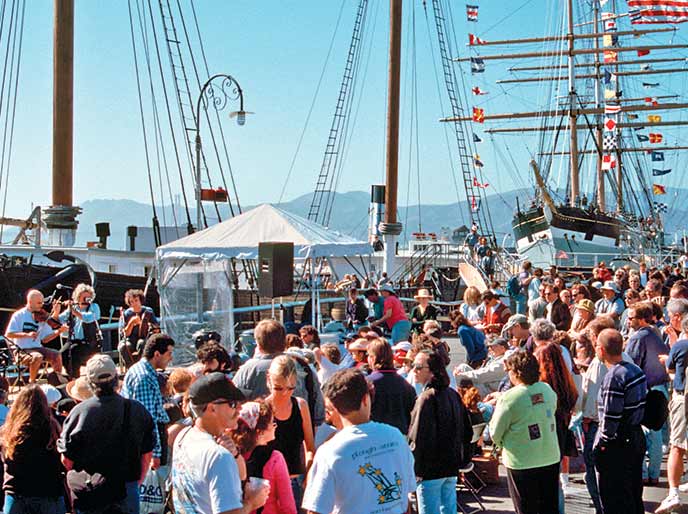 FREE FESTIVAL OF THE SEA RETURNS TO HYDE STREET PIER!

Schedule of Events and Performances

Celebrating the NPS Centennial and the Restored 1895 Schooner C.A. Thayer
Four Stages of Traditional Music, Demonstrations, Events, and Activities for All Ages
Saturday, August 20, 9:30am-5pm at San Francisco Maritime National Historical Park

Help San Francisco Maritime National Historical Park celebrate the National Park Service's 100th birthday and honor the 1895 National Historic Landmark schooner C.A. Thayer with a full day of music, demonstrations, and fun along the San Francisco waterfront. Festival of the Sea 2016 happens at Hyde Street Pier on Saturday, August 20, from 9:30am to 5pm. Admission is free.
The event includes a special re-dedication ceremony for the park's 1895 West Coast schooner C.A. Thayer at 11:30am. Brian Thayer Mullins, a descendant of the vessel's namesake, and descendants of J.E. Shields, the vessel's last captain, will help raise a sail, and re-christen the vessel.
Must-see events include local theater company We Players' environmental explorations and improvisations of sound, movement and story-in-space aboard C.A. Thayer (in anticipation of their spring 2017 Beowulf site-integrated project), and a sand castle building contest on the Aquatic Park beach.
Family activities include: kids crafts, rope making and plank caulking, a chance to row and sail with the San Francisco Sea Scouts, and maritime story-telling.
A dead horse ceremony, bilge pumping, turning a capstan, a breeches buoy rescue, and a dory drill by the San Francisco Maritime National Park Association's Age of Sail team will bring sailors' traditions to life for festival-goers.
Free, continuous music performances on four stages will include these internationally renowned acts and local musicians: De Temps Antan (power trio from Quebec, performing traditional Quebecois music on fiddle, accordion, guitar and vocals), Aunt Pearlie Sue (from South Carolina, performing Gullah songs and stories from the Georgia Sea Islands), Patrick Landeza (performing Hawaiian songs and guitar music), Robbie O'Connell and Dan Milner (singers of traditional and contemporary Irish songs and sea chanteys),The Flying Angels Chinese Dance Company (adults, young adults and children performing folk dances of China), Maria Jose Montijo (who, with her band, performs Spanish language songs of the sea), Brass Farthing (which performs a cappella songs from Britain and America), Charmas (a Celtic music band hailing from the Bay Area's southern peninsula), The Holdstocks (singing and accompanying themselves on guitar and mandolin), Celeste Bernardo (who accompanies herself on concertina), Shay Black (the eldest member of Ireland's "first family of song"), Autumn Rhodes (specializing in Irish concertina, flute, tinwhistle and songs sung in Irish), Dogwatch Nautical Band (a local group and Festival of the Sea alumni), Salty Walt And The Rattlin' Ratlines (use call and response to bring traditional American and British folksongs, sea songs and chanteys to life), Amelia Hogan (who sings unaccompanied songs of Ireland), Benjamin Wachs (a chantey singer with a powerful voice), Dave Nettell (founding ranger of the park's monthly chantey sing program), Richard Adrianowicz (chantey singer and longtime festival performer), Riggy Rackin (who accompanies himself on English concertina), Susan Walsh (a local artist who grew up singing in a large Irish-American family in Ohio), Erin Rose Conner (who accompanies herself on the bodhran - Irish drum), Steve Canright (who will be singing unaccompanied songs of the sea), and Alice Watts (sea educator, and galley mate aboard Balclutha for over 30 years).
Don't miss this chance to experience your maritime heritage, enjoy a day along San Francisco Bay, and "Find Your Park" this summer!
San Francisco Maritime NHP, located at the west end of Fisherman's Wharf in San Francisco, includes a magnificent fleet of historic ships, Visitor Center, Maritime Museum, Maritime Research Center, and Aquatic Park Historic District. For more information, please call 415-447-5000 or visit https://www.nps.gov.safr. Follow us on Twitter @SFMaritimeNPS and Instagram sfmaritimenps and join us on FB @SanFranciscoMaritimeNHP. Please follow and share the fun with #FestivaloftheSeaSF
---