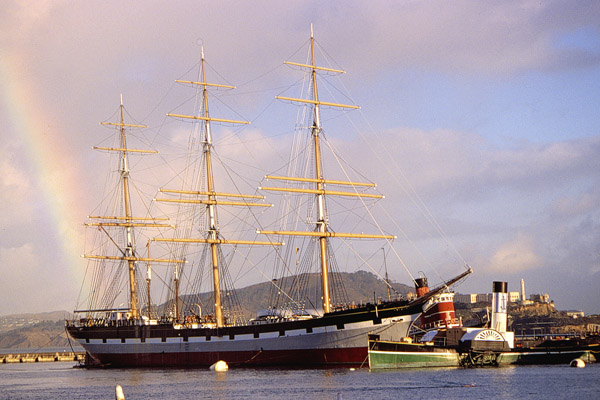 News Release Date:
February 27, 2007
Contact: John Cunnane, 415-561-7123
Imagine standing on the stern of the 1886 sailing ship Balclutha and feeling a fresh ocean breeze on your face as you and your crew scrape, sand, and oil the vessel's wooden deck-- just as sailors did in the 19th century.
A six-week summer employment program at San Francisco Maritime National Historical Park offers this invaluable experience to young men and women (from 15-18 years old), while fostering an understanding and appreciation of the park's cultural resources.
San Francisco Maritime National Historical Park is recruiting for the 2007 San Francisco Maritime Youth Conservation Corps (YCC) program, scheduled from July 8-August 18, 2007. Wages are $10/hour, and the work schedule is 40 hours/week, Monday-Friday. The application deadline is April 16, 2007.
Young men and women will work together under adult leadership to complete restoration and maintenance projects on the historic ships at Hyde Street Pier, as well as landscape projects throughout the park. The YCC experience is more than a paycheck—it expands job and leadership skills, develops personal values, boosts self-esteem, and teaches self-discipline and an awareness of social and environmental issues. The program uses work experiences to foster a greater appreciation for the nation's cultural heritage.
Each Corps member is required to provide their own transportation to and from the park, minimal uniform items, and a student work permit. They must also complete a pre-appointment physical exam. Applicants must be citizens of the United States and be 15 years of age by July 8, but not over 18 years of age by August 18.  
For further information and/or an application, please contact the YCC Program Manager by calling (415) 561-7047, or writing to San Francisco Maritime NHP, Attn: YCC Program, Building E, Lower Fort Mason, Room 265, San Francisco, California 94123.  Completed applications must be sent to the address noted above and postmarked by April 16, 2007.
San Francisco Maritime National Historical Park, which includes a magnificent fleet of historic ships, a visitor center, and maritime library, offers both regular programs and special events. For more information about the park or its public programs, please call 415-447-5000. Images are available at https://www.nps.gov/safr/photosmultimedia/photogallery.htm. (Note: The Maritime Museum at 900 Beach Street is closed for renovation. It will reopen in 2009.)