26th Annual Sea Music Concert Series Finale Evokes Maritime Traditions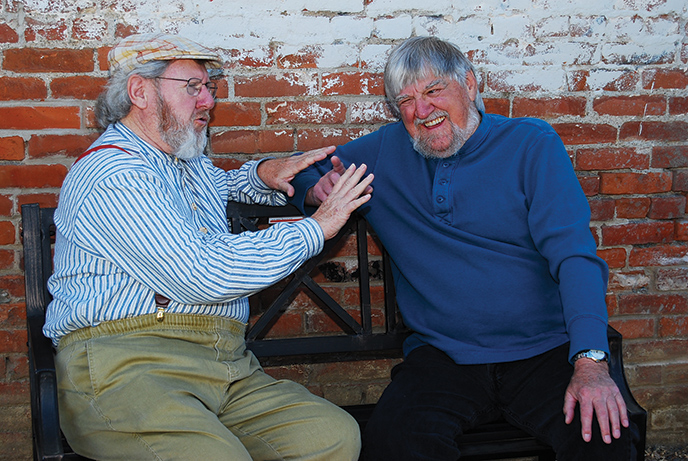 News Release Date:
October 31, 2014
Contact: Morgan Smith, 415-561-7049
What: A sea music concert featuring singers and acoustic instrumentalists Holdstock and Macleod.
When: Saturday, November 15, 2014, 8pm to 10pm.
Where: Aboard the 1886 Glasgow-built square-rigger Balclutha, berthed at Hyde Street Pier on San Francisco's Fisherman's Wharf.
Presenter: San Francisco Maritime National Historical Park
Cost: $14 general, $12 San Francisco Maritime National Park Association members, $36 season ticket holders
Reservations: www.brownpapertickets.com/event/809493
Information: www.nps.gov/safr/planyourvisit/seamusicconcert2014.htm
Join the National Park service for the finale of the 26th annual Sea Music Concert Series, featuring noted singers and instrumentalists Holdstock and Macleod. With city lights twinkling in the background, the 1886 historic sailing ship Balclutha provides a unique venue to experience the authentic music of seafarers.
Dick Holdstock and Allan Macleod are still enthusiastically performing together after 30 years. They perform authentic renditions of the songs of their homelands: England and Scotland. Captivating audiences from coast to coast, they trade off on playing guitar and mandolin, as well as sing a cappella. Hearing their music is a memorable event and an extraordinary glimpse into a not-so-distant maritime past, as they reveal new insights into history and old customs through their songs.
San Francisco Maritime National Historical Park is located at the west end of Fisherman's Wharf in San Francisco. The park includes a magnificent fleet of historic ships, Visitor Center, Maritime Museum, Maritime Research Center, and Aquatic Park Historic District. For more information about the park and its public programs, please call 415-447-5000 or visit nps.gov/safr and facebook.com/SanFranciscoMaritimeNHP.
# # # #  10-30-14
Last updated: March 1, 2015