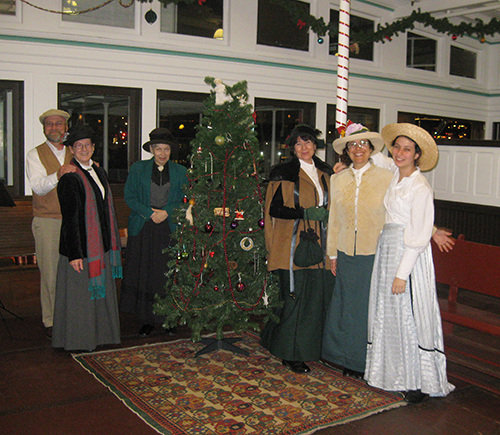 News Release Date:
November 5, 2015
Contact: Morgan Smith, 415-561-7049
Lamplit Guided Tours Every 20 Minutes From Hyde Street Pier Entrance Until 7:40pm
Saturday, December 12, 2015, 6-9pm, at Hyde Street Pier

San Francisco - On Saturday, December 12, from 6:00pm to 9:00pm, San Francisco Maritime National Historical Park's costumed Living History players will present its annual Old-Time Maritime Christmas, bringing maritime history to life in this unique holiday program. The program is free, and reservations are required. Information and reservations: 415-447-5000.
Turn the clock back to Christmas in the year 1901, where you will meet and talk with captains, wives, and crews aboard the historic vessels at Hyde Street Pier. Lamplit guided tours leave every 20 minutes from the entrance to Hyde Street Pier, with the final tour beginning 7:40pm. With the lights of San Francisco twinkling in the background, the historic ships and costumed players offer a unique holiday experience.
San Francisco Maritime National Historical Park is located at the west end of Fisherman's Wharf, in San Francisco. The park includes a magnificent fleet of historic ships, Visitor Center, Maritime Museum, Maritime Research Center, and Aquatic Park Historic District. In celebration of the 100th anniversary of the National Park Service in 2016, the park seeks to connect and create the next generation of park visitors, supporters and advocates and invites visitors to join us in celebrating the Centennial milestone. For more information, please call 415-447-5000 or visit us at nps.gov/safr, Twitter @SFMaritimeNPS, on Instagram at sfmaritimenps or follow us on Facebook SanFranciscoMaritimeNHP.
#  #  # 11/5/15