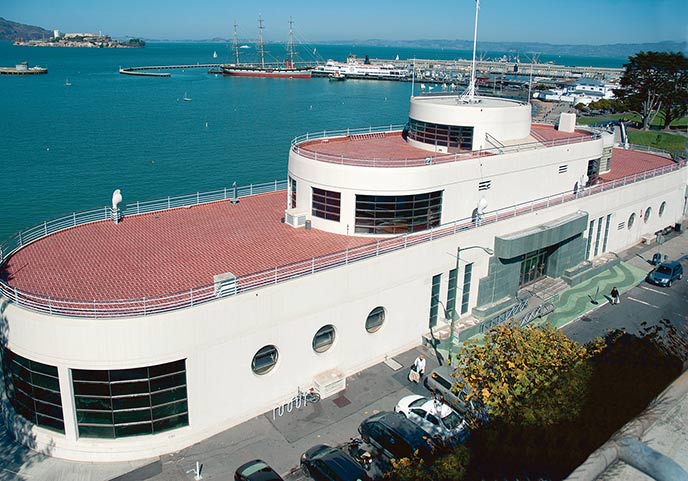 News Release Date:
November 13, 2015
Contact: Lynn Cullivan, 415-561-7006
Berths Now Available at the Aquatic Bathhouse Information Desk
Free Volunteer-in-Parks Training Thursday, December 3 10:00am – Noon
Have you ever been interested in the national parks? Volunteering is a great way to learn about the National Park Service and Maritime Museum volunteer docents help bring San Francisco's history to life. 
Maritime Museum volunteer docents educate visitors about the significance of the Maritime Museum and provide general park information and assistance to visitors. They are often the front-line face of the park. Your shift may provide a variety of experiences: providing basic park orientation and information, interpreting Pacific Coast maritime history, discussing the historic vessels at Hyde Street Pier (including the 1886 sailing ship Balclutha), marveling over the swimmers in Aquatic Park cove, or pointing out sea lions and brown pelicans.
On Thursday, December 3 at 10:00am, San Francisco Maritime National Historical Park will provide training to new and returning volunteer docents. Rangers and park staff will offer insights on the WPA New Deal art that is so central to the Maritime Museum, including the building's integral artworks (murals, slate and tiles) and the artists Hilaire Hiler and Sargent Claude Johnson. Other topics will include two-way radio operation and communication, and the basics of visitor safety and resource protection.
For more information on becoming a Maritime Museum volunteer docent, and to receive the location for training, please call (415)561-7170 or email e-mail us.
San Francisco Maritime NHP is located at the west end of Fisherman's Wharf in San Francisco. The park includes a magnificent fleet of historic ships, Visitor Center, Maritime Museum, Maritime Research Center, and Aquatic Park Historic District. For more information, please call 415-447-5000 or visit the park's website https://www.nps.gov.safr. Follow us on Twitter @SFMaritimeNPS and Instagram sfmaritimenps and join us on Facebook SanFranciscoMaritimeNHP.
# # #
11/12/15