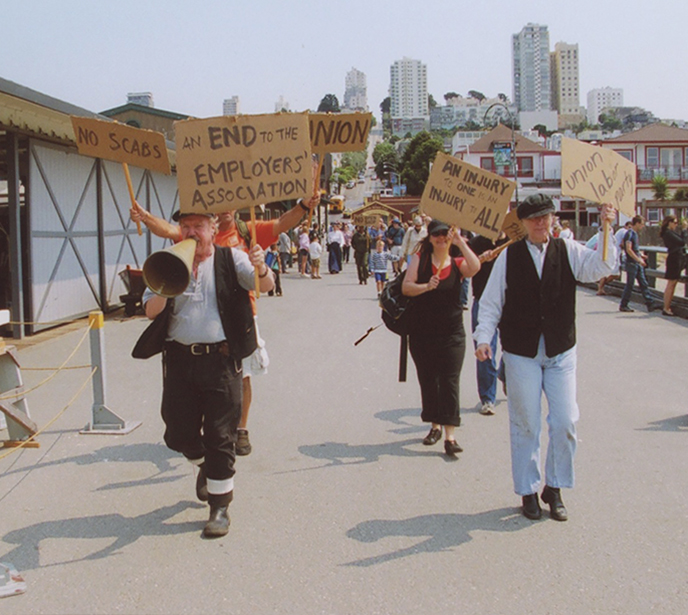 News Release Date:
March 10, 2014
Contact: Lynn Cullivan, 415-561-7006
On Saturday, July 12, 2014, on Hyde Street Pier from 12-4pm, San Francisco Maritime National Historical Park presents an afternoon of costumed living history depicting events during the 1901 San Francisco waterfront strike. 
From July 13 to October 2, 1901, San Francisco's waterfront was shut down by sailors, teamsters, and longshoremen striking for better pay and working conditions. Experience the sights and sounds of San Francisco history through a Living History reenactment. Hear impassioned speeches and voice your own opinion! Take part in a march as strikers implore ships' crews to join their ranks. Watch as a ship owner and ship's officer defy the strikers.
The strike reenactment will take place on Hyde Street Pier at 12pm, and repeated at 3pm. Admission to historic ships: adults, $5, ages 15 and under, free. Free with National Park passes. There is no admission charge to walk on Hyde Street Pier. Fees are for boarding historic ships. For more information, please call the park's Visitor Center: 415-447-5000, or see www.nps.gov/safr/.
San Francisco Maritime National Historical Park is located at the west end of Fisherman's Wharf, in San Francisco. The park includes a magnificent fleet of historic ships, Maritime Museum, Visitor Center, Aquatic Park Historic District, and library. For more information about the park, or its public programs, please call 415-447-5000, or visit the park's website at https://www.nps.gov/safr/.
### 02-12-14