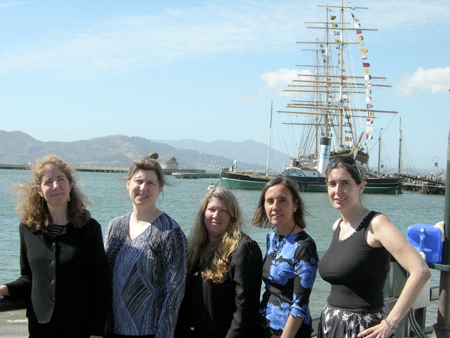 News Release Date:
October 1, 2009
Contact: John Cunnane, 415-561-7170
On Saturday, November 14, at 8:00pm, The Johnson Girls, a sea music band from New York, will perform a concert aboard the historic sailing ship
Balclutha
, berthed at Hyde Street Pier on San Francisco's Fisherman's Wharf. The concert is presented by San Francisco Maritime National Historical Park. Tickets: $14 general, $12 members. Tickets and information: 415-561-6662, ext. 33 (Photo available on request).
The Johnson Girls -- Deirdre Murtha, Alison Kelley, Joy Bennett, and Bonnie Milner -- captivated by traditional seafaring songs at different times in their lives, came together in 1997 following the Mystic Seaport Museum Sea Music Festival to burst through the barrier of this previously male dominated genre. Since then, they have taken the sea music world by storm with their powerhouse renditions of chanteys, and their tender performances of seafaring ballads. They have performed at festivals and concert halls across the United States, in Canada, England, Wales, the Netherlands, and Portugal. Pete Seeger said of them "You are first rate!"
San Francisco Maritime National Historical Park is located at the west end of Fisherman's Wharf, in San Francisco. The park includes a magnificent fleet of historic ships, visitor center, Aquatic Park Historic District, and library. For more information about the park, or its public programs, please call 415-447-5000 or visit the park's website at https://www.nps.gov/safr.
                                                                   ###                                                       9-29-09