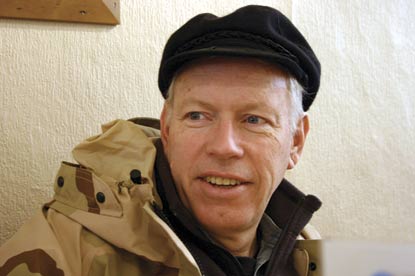 News Release Date:
August 27, 2009
Contact: John Cunnane, 415-561-7170
On Saturday, September 26, at 8pm, acclaimed folk singer Hank Cramer opens the 21st annual Sea Music Concert Series at San Francisco Maritime National Historical Park with a performance of sea chanteys and other songs of the sea. The concert will be held aboard the historic ship
Balclutha
, berthed at Hyde Street Pier on San Francisco's Fisherman's Wharf.  
With the city's lights twinkling in the background, the
Balclutha
provides a beautiful and unique setting to experience some of the world's finest performers of songs of the sea. Wheelchair accessible.
Hank Cramer is known for his booming bass voice, smooth picking on a vintage flat-top guitar, and a wry sense of humor. His life experiences make his music ring with a special authenticity. He has been a chanteyman aboard a sailing ship, a miner, an professional soldier, a wrangler, and a world traveler. Photo of Hank Cramer available on request.
Tickets are $14 general, $12 for San Francisco Maritime National Park Association and Maritime Library Friends members. Tickets available by calling 415-561-6662, ext. 33, or by visiting The Maritime Store, at the entrance to Hyde Street Pier.
San Francisco Maritime National Historical Park is located at the west end of Fisherman's Wharf, in San Francisco. The park includes a magnificent fleet of historic ships, visitor center, WPA-era artwork in the Aquatic Park Bathhouse Building, and library. For more information about the park, or its public programs, please call 415-447-5000 or visit the park's website at https://www.nps.gov/safr.