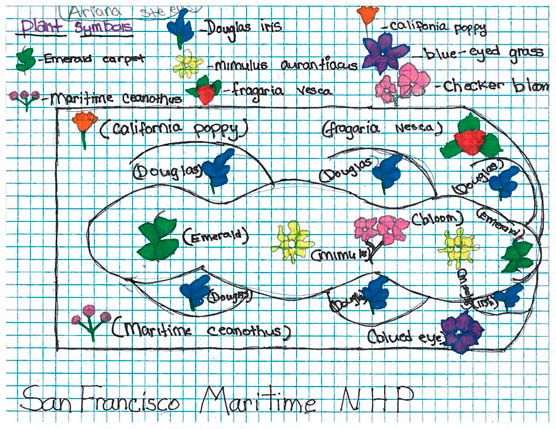 News Release Date:
May 5, 2010
Contact: Mark Shields, 202-354-6480
Contact: John Cunnane, 415-561-7049
LOCAL KIDS ENTER "FIRST BLOOM" NATIONWIDE GARDEN DESIGN CONTEST THROUGH SAN FRANCISCO MARITIME NATIONAL HISTORICAL PARK AND THE NATIONAL PARK FOUNDATION
Online Voting Open Through May 28 at www.first-bloom.org
Winning Design Will Earn The First Bloom Group an Overnight Trip to a National Park
San Francisco, CA (April 28, 2010) – Local youth from the Boys & Girls Clubs of San Francisco are competing in the National Park Foundation's First Bloom garden design contest. First Bloom gives 4th- 6th grade youth around the country firsthand experience in national parks. Park rangers at San Francisco Maritime National Historical Park have worked with the youth all year, teaching important conservation lessons including the difference between native and invasive plant species. Now, through May 28, 2010, the public is invited to vote on garden designs, and the First Bloom group with the most votes will win a free trip to a national park!
"The kids have had fun, worked hard, and learned about conservation, native plant species, and their San Francisco Bay Area national parks," said park ranger Janie Mayton.
First Bloom youth taking part in the contest were encouraged to be creative in both their design, and the presentations of their designs – which ranged from drawings to models made of clay, and – in one case – cookies!
"All you have to do is take one look at these garden designs, and you can see the thought and care that our First Bloom kids put into these," said Neil Mulholland, President and CEO of the National Park Foundation. "That excitement will grow into a lifelong connection to the national parks."
To participate in the online voting, and to view a gallery of the First Bloom garden designs, please visit www.first-bloom.org.
The garden design contest is the culmination of a year of project work for the First Bloom students in partnership with their local national parks, where they have learned important lessons about stewardship and conservation. The nationwide program is currently taking place in 26 national parks in partnership with 31 youth groups across the country. To learn more about the First Bloom program, visit www.first-bloom.org.
ABOUT SAN FRANCISCO MARITIME NATIONAL HISTORICAL PARK
San Francisco Maritime National Historical Park is located at the west end of Fisherman's Wharf, in San Francisco. The park includes a magnificent fleet of historic floating vessels, Visitor Center, Aquatic Park Historic District, and maritime library. For more information about the park, or its public programs, please call 415-447-5000, or visit the park's website at https://www.nps.gov/safr/.
ABOUT THE NATIONAL PARK FOUNDATION
You are the part-owner of 84 million acres of the world's most treasured landscapes, ecosystems, and historical sites -- all protected in America's nearly 400 national parks. Chartered by Congress, the National Park Foundation is the official charity of America's national parks. We work hand in hand with the National Park Service to help connect you and all Americans to the parks, and to make sure that they are preserved for the generations who will follow. Join us – This is Your Land www.nationalparks.org
FACEBOOK https://www.facebook.com/nationalpark
TWITTER https://twitter.com/goparks
#  #  #