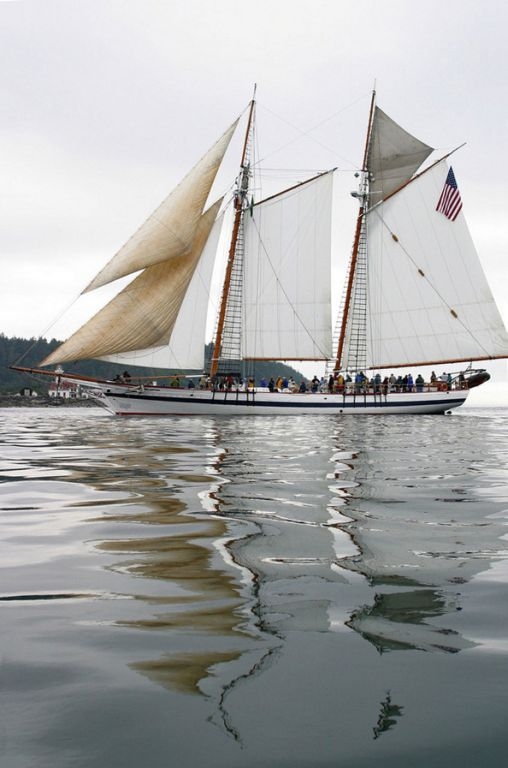 News Release Date:
January 25, 2009
Contact: John Cunnane, 45-561-7170
Gaff-Rigged Bill of Rights Hosting Kids Overnight Education Programs Thru February, 2009
General Public May Visit The Two-Masted Wooden Vessel on Park Ranger-Led Tours
San Francisco – The 136-foot sailing schooner Bill of Rights is berthed at San Francisco Maritime National Historical Park through February 2009. The gaff-rigged wooden vessel is hosting the experiential education program Age of Sail while the Park's 1886 Balclutha takes some well-earned R&R in a local dry dock for painting, and other minor repairs. Ranger-led tours of the Bill of Rights will be included in the park's regular entrance fee. Call ahead to check on the schedule at 415-447-5000.
"The Bill of Rights is a beautiful boat, and a great fit for our program," said Michael Meyers, Board President of the San Francisco Maritime National Park Association, the non-profit that runs the park's Age of Sail education program. "Adapting our curriculum to another vessel took a bit of work, but our instructors have created a very clever storyline to explain it all."
The Bill of Rights is operated by The American Tall Ship Institute (www.americantallship.org), a volunteer non-profit organization that is currently developing marine education programs focusing on the maritime region around the Channel Islands, off the coast of southern California. The wooden schooner is certified to carry 90 students on day sails, and up to 30 on overnight voyages. She is 136 feet long, has a draft of 10 feet, and her masts are 100 feet high.
For more information about the Bill of Rights (including how to get aboard her), please call the park Visitor Center at 415-447-5000 or visit https://www.nps.gov/safr.