Date:
April 25, 2011
Contact:
John Cunnane
, 415-561-7049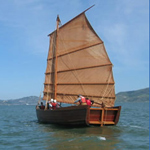 Chinese Laborers program
Sundays, May 1st and May 8, 2011, 3pm. Meets aboard Balclutha, Hyde Street pier. Admission: adults, $5. Ages 15 and under, free. Free with national park passes. Information: 415-447-5000, or www.nps.gov/safr.

Learn about the lives and cultural contributions of Chinese laborers who braved rough seas and poor working conditions while sailing from San Francisco to Alaska for the annual salmon run.

Maritime Chinese Community programs
Saturday, May 14, 3pm, and Saturday, May 28, 1pm. Meet on Hyde Street Pier. Free. Information: 415-447-5000, or www.nps.gov/safr.

The early Chinese Americans were the first commercial fishermen in California. They were instrumental in pioneering the development of the San Francisco Bay shrimping industry as well as squid and abalone fishing in Monterey and in the Channel Islands. Join a ranger talk that will delve in the fascinating story of their unique lives as we reflect upon their historical contributions to our maritime heritage.

Chinese Americans were a significant presence on the early California waterfront. During the height of the Gold Rush period in 1851, almost one third of all forty niners who entered the Golden Gate by ship were Chinese. The programs listed above at San Francisco Maritime National Historical Park, Hyde Street Pier, will explore the critical impact that the Chinese workers had on the shrimp, salmon, and abalone industries along coastal California and Alaska.
Click here for more stories.

San Francisco Maritime National Historical Park is located at the west end of Fisherman's Wharf, in San Francisco. The park includes a magnificent fleet of historic ships, visitor center, Aquatic Park Historic District, and library. For more information about the park, or its public programs, please call 415-447-5000 or visit the park's website at https://www.nps.gov/safr.
                                                             ###                                                 04-19-11