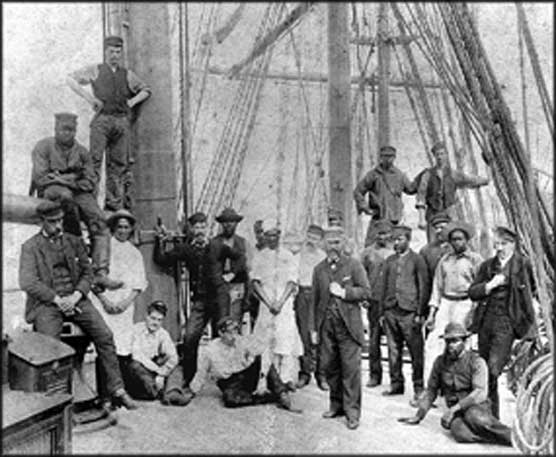 News Release Date:
January 3, 2007
Contact: John Cunnane, 415-561-7123
Learn about the major roles that African Americans have played in maritime history. From the earliest years of our nation to the modern day, African Americans have built, crewed, and captained ships, fought in wars, invented shipboard tools, and developed maritime music. Throughout February, San FranciscoMaritimeNationalHistoricalPark celebrates African American History Month with programs for the whole family.
Chantey Sing - Saturday, February 3, 8pm-12am
The park's monthly chantey sing, an open session of maritime music held aboard the historic sailing ship Balclutha, will emphasize sea songs of African American and Caribbean sailors. All are welcome to sing! Reservations required. Call 415-561-7171, or email. Free.
African Americans and World War II Liberty Ships - Sundays, February 11 and 18, 2pm
Park Ranger Carol Kiser presents a slide program detailing the contributions of African Americans to the construction and operation of Liberty Ships during World War II. Visitor Center Theater. Free.
Maritime Routes of the Underground Railroad - Saturday, February 17, 1pm
Guy Washington presents a 45-minute slide program showing how ships became routes to freedom in the Underground Railroad. Learn about African and American enslavement and discover the inspiring stories of escapes in search of freedom. Visitor Center Theater. Free.
Chanteys: The African American and CaribbeanConnection - Saturday, February 24, 3pm
Join Park Ranger Peter Kasin and park volunteer Richard Adrianowicz in a program of African American and Caribbean work songs of 19th century sailors and dock workers. The choruses to these chanteys are easy to sing and participants are encouraged to sing along. Aboard Balclutha, Hyde Street Pier. Ship admission: $5/adult, under 16 free.
Exhibit: African Americans in the Maritime Trades - daily, throughout February
Photograph exhibit about the contributions of African Americans in maritime industries. Hyde Street Pier. Free.
San Francisco Maritime National Historical Park is located at the west end of Fisherman's Wharf, in San Francisco. The park includes a magnificent fleet of historic ships, visitor center, maritime museum (closed for renovation), and library. For more information about the park, or its public programs, please call 415-447-5000.