Museum Collections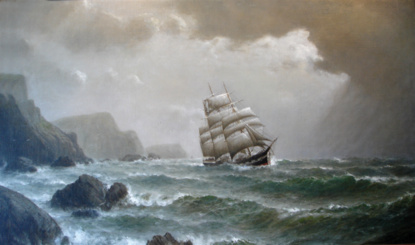 Photo Galleries (historic images, images of items from the Collections, Park images, etc.)

The Maritime Research Center of the San Francisco Maritime National Historical park is the premier resource for San Francisco and Pacific Coast maritime history. Originating in 1939, the collections have become the largest maritime collection on the West Coast and the largest museum and research collection in the National Park Service. Our unique resources serve and inform historians, genealogists, artists, authors, students, filmmakers, sailors, boat and model builders, and performers from all over the world, as well as NPS staff.
The collection includes more than:
35,000 published titles comprising over 72,000 items
500,000 photographs
5,000 linear feet of archives
150,000 ship plans and marine engineering drawings
3,000 maps and charts
150,000 feet of motion picture film and video
6,000 historical archaeology artifacts
2,500 pieces of folk and fine art
40,000 history objects
100 small craft
50,000 pieces of ephemera
600 oral histories and audio recordings

Objects: The museum Object Collections run the gamut from large parts of sailing vessels rescued from an undignified demise, to fine art created for the documentation and admiration of such vessels. There are items from the everyday lives of people making their living at sea, relying on the sea for transportation, and of those who became wealthy from their maritime endeavors. The object collections are a treasure trove of the iconic to the practical, containing tangible links that help bring maritime history to life. Access to the Park's stored museum artifact and stored small craft collection is currently unavailable as we move these collections to a new facility. If you are in need of research assistance during this time, please contact us. We thank you for your cooperation and understanding.

Archives: The Archival Collections concern the history and achievements of seafaring Americans primarily of the Pacific Coast of North America covering the span of history from the California Gold Rush era to the recent past. They include paper records (such as manuscripts, naval architecture and marine engineering drawings), photographs, film and video, and audio records on tape and digital media. The major subjects encompassed in the archives are oceanic and coastal trade, the San Francisco Bay and river systems, marine harvesting, marine business, labor and shore-based support activities.

Library: The Library Collections consist of published titles dating from 1536 to the present, including cartographic materials dating from 1650 to the present primarily covering the Pacific Basin and the West Coast of the United States, as well as audio and video materials in multiple formats.
Small Craft: The Park's Small Craft Collections consist of traditional and significant vessels that provide a fine introduction to boatbuilding and maritime trades.

Museum Collections highlights by subject: