Kenichi Horie: Japan's Most Famous Yachtsman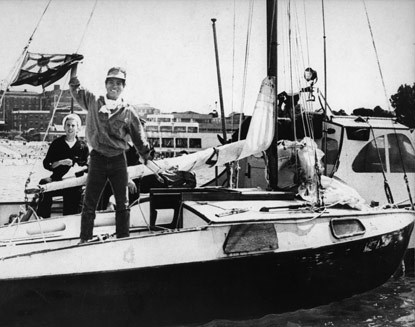 By Stephen Canright, Park Curator, Maritime History

San Francisco Maritime National Historical Park is proud of its association with Kenichi Horie, Japan's most famous yachtsman, and the first man in history to make a non-stop solo crossing of the Pacific Ocean.

As a gesture of his affection for the City of San Francisco, Mr. Horie donated two of the small sailing boats most closely associated with his adventurous career to the park's permanent museum collection.

Kenichi Horie is regarded as a Japanese National Hero, and we are most pleased to bask in a small reflection of his glory. Mr. Horie was an unknown 23-year-old when he sailed his 19-foot black plywood sloop, the Mermaid, through the Golden Gate in 1962. His arrival was entirely unannounced. He had, in fact, left Japanese waters without any form of official clearance. Ninety-four days later, he arrived in San Francisco with no passport, no money, and little knowledge of English. Horie was briefly arrested, but Mayor George Christopher saw to it that he was released and presented with a visa and the key to the city.
---
THURSDAY, AUGUST 2, 2012
Sailing alone across the Pacific: The Person

(First in a series of posts celebrating the 50th anniversary of the first person to make a non-stop solo crossing of the Pacific Ocean, leaving Osaka, Japan on May 12, 1962 and arriving in San Francisco on Sunday, August 12, 1962. By Gina Bardi, Reference Librarian.)

In Kenchi Horie's book Koduko: sailing alone across the Pacific, he says, "The crew matters the most," (p. 30) so when he set out to cross the Pacific Ocean he chose the best crew he could ... himself. Just himself. At 23 years old, when most of us were just figuring out how to get to work on time, Kenchie Horie sailed from Japan to San Francisco in a 19 foot sail boat alone. When asked why he did such a thing--and he was asked. Repeatedly. To the point of annoyance, he replied, "Well, I crossed it because I wanted to" (p. 15). It's an answer reminiscent of Sir Thomas Mallory's famous reason why he climbed Mt. Everest ("Because it was there") but it is a more confident active response. It's the sort of response one would expect of a young auto parts salesman who, against the wishes of his father and his government, set out on a ridiculously dangerous 5,300 miles journey to a country where he had no connections, barely spoke the language and no plans on how to get back.

To me, one of the most interesting things about Horie is that he did not have a life time love affair with the sea. In fact, he wasn't the least bit interested in sailing until high school when he joined the school's sailing club because "it sounded like fun" (p. 20). There was no deep passion drawing him--he could have just as easily joined the chess team. Things turned for Horie though during his sophomore year, still sailing with the club. As he described it, "A burning passion for the sea gripped me. Maybe it was then that the Pacific began to beckon to me, inviting me to dream of a boundless open sea to sail" (p. 21). Once in its grip, Horie was not able to let go. Despite pushback from family and ridicule from friends and worried barks from his dog (p. 79), he went to sail in the boundless open sea. He said of his goal:

If you make up your mind to do something--if you are determined to do it--there is only one way to go about it. Work out your own ideas on the general course you are going to follow and stick to them; stand on those basic ideas and assume responsibility for your actions. You yourself have to work out what you think is the best plan and carry it out to the end. You may make mistakes, there may be details in your plan that could have been improved upon by relying on someone else's advice but basically it has to be your personal responsibility to conceive and carry out the project (p. 51).

Read more about Horie's boat the Mermaid, the actual voyage, what he packed and the upcoming anniversary in future Full Fathom Five posts. Until then, if you decide to sail alone across an ocean, maybe you'd like to bring a copy of Koduko along with you--stop by the library and check out a copy (just don't bring it back wet).
WEDNESDAY, AUGUST 8, 2012
Sailing alone across the Pacific: The Anniversary

(Second in a series of posts celebrating the 50th anniversary of the first person to make a non-stop solo crossing of the Pacific Ocean, leaving Osaka, Japan on May 12, 1962 and arriving in San Francisco on Sunday, August 12, 1962. By Heather Hernandez, Technical Services Librarian.)

On Sunday, August 12, 1962, Kenichi Horie arrived in San Francisco on his 19 foot plywood boat, the Mermaid, having spent the previous 94 days sailing alone across the Pacific Ocean--the first person known to have done so.

This is one of many amazing accomplishments in maritime history, a field full of dates, distances, and seemingly impossible achievements. Why do we note them? Why do we celebrate them? What do they mean?

For me, it is about a connection.

Of course, I had long heard about Kenichi Horie's amazing voyages, even read about the more recent ones in the newspaper. When I visited the Maritime Museum, I could visit the Mermaid on the veranda. When I came to work here, his book, Kodoku, is one of those titles that is requested and travels from the Stacks to the Reading Room and back, through the Library staff's hands.

But a significant anniversary creates excitement and awareness. The Mermaid has been moved out to the Hyde Street Pier and is not only on exhibit, but is being cared for by the Small Craft shop. I went to visit her--to speak to her, as Mr. Horie requested. They are doing a wonderful job--her stern is looking so spiffy! (You can see some of their blue painters' tape in this photo.)

I looked for and found her tag, one of the symbols of how she connects us:

When I have the privilege of visiting her, I am reminded of how lucky I am to work in Collections, and how I can occasionally count myself among those who can touch her--who can lay my hand on this wonderful little yacht that took such care of the young Mr. Horie, and who traveled all that long way from our sister city, Osaka. Sure, the same water touches our shores, San Francisco's and Osaka's, and many vessels have plied the waters in between, but this one made her journey under sail with only her one sailor to accompany her.

Want to make a connection to Mr. Horie yourself? Come in to the Library. Hold in your hands the copy of Kodoku from which the image at the top of this post was taken. Mr. Horie held and signed this copy of Kodoku, and it resides in our rare vault, but it is accessible to all. You can hold in your hands something that Mr. Horie held in his.

And on this Sunday, August 12, 2012, join me in honoring Mr. Horie's request to "...recall for a short moment, if you will, the deed of a young Japanese, who loved the yacht and the United States of America."
TUESDAY, AUGUST 21, 2012
Sailing alone across the Pacific: The Boat

(Third in a series of posts celebrating the 50th anniversary of the first person to make a non-stop solo crossing of the Pacific Ocean, leaving Osaka, Japan on May 12, 1962 and arriving in San Francisco on Sunday, August 12, 1962. By Gina Bardi, Reference Librarian.)

You can have all the determination, grit, pluck, spunk, backbone, nerve, skill and desire to sail solo across the Pacific, but you're not going to get very far If you don't have a boat. When 23-year old Kenichi Horie set out to cross the open sea, he needed a partner that would stand up to the challenge. After paying $30 for a set of blue prints. When he asked the designer, Akira Yokoyama, if the boat could make it across the Pacific, Yokoyama replied:

It's possible…I don't think it hasn't got a chance. But remember, a sailboat for a sailor is something like a pair of shoes for a climber. Just getting into Hillary's shoes doesn't mean you could climb Everest. And a sailboat alone doesn't make a sailor out of anyone. (Kodoku, 41-2)

Not quite a pep talk, but then again, Horie didn't need a pep talk. The one thing he asked of the builder was to change the serial number of the boat. It would be the fourth one of that design built, and the Japanese have a superstition of the number 4. Horie was not willing to tempt fate. Yokoyama agreed to change the number to 5 (42). He had a boat yard in Osaka build the 19 foot sloop, which he named the Mermaid. There was no special attachment to the mythical creature, rather a company had donated the sail in exchange for the publicity. The company's logo was a mermaid which was emblazoned on the sail. It seemed natural to name her that.

It will come as no surprise to anyone who owns a boat, that when it was done, Horie was alternately thrilled and disappointed. It was his boat, his very first one, but there were problems. The old saying "A boat is a hole in the water you pour money into" holds true in Japan as well. He'd have a bit more work to do before he could set sail (47). Finally, on May 12th, 1962 Horie started his journey in his little black and whiteboat which would become his constant and stalwart companion for 94 days.

We'll be talking more about the actual voyage in later posts, but [spoiler alert] after he returned to Japan, Horie donated the Mermaid to our museum. He also presented us with a commemorative tray on which the following is transcribed:

"I would like for you - the people of this beautiful City of San Francisco, the City that I shall remember as the one that made my youth such a colorful event - to accept my most loved one, "The Mermaid." My entire youth was spent in carrying on a conversation with her. She was the one who gave me courage when I was lonely and weak. She is a lonely heart, too. I tried to encourage her when she was depressed by talking to her about the Golden Gate Bridge that she had longed to see. Both of us were tied together strongly by trusting each other with the impatience of young lovers. The two of us left Nishinomiya Port on the night of May 12, 1962. Putting entire confidence in the strength of this little lover of mine, we set sail into the vast ocean ahead of us...It is unbearable for me, now, to leave her behind in a foreign country. It pains my heart terribly to think that she is left behind alone. You will please be kind to her. Please be kind to my tired lover; please be good to her. Although she may look a bit unpainted and pale, I don't doubt that she is most serenely contented inside. She is injured all over, but she is immersed in the memories of her 94 days on high seas. Will you please speak to her, this lonely heart, when you are moved to do so. And will you please listen to her talk about the stars, the waves and the skies over the Pacific Ocean. And recall for a short moment, if you will, the deed of a young Japanese, who loved the yacht and the United States of America." (SAFR Catalog 3708)

I would be hard pressed to find a more touching love letter.

See the Mermaid in all her glory on Hyde Street pier in front of the Small Boat Shop. Check back in the coming weeks for more on this incredible voyage.

Citations:
Horie, Kenichi. Kodoku. Rutland, Vermont: Charles E. Tuttle Company, 1964. Book.

Tray, 1968. SAFR Catalog Number 3708. San Francisco Maritime National Historical Park.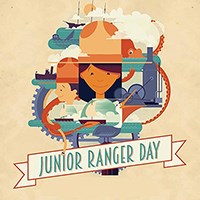 "Hi! Are you on the Junior Ranger Quest? Click
here
to return to the main page!
Last updated: April 23, 2021