Eppleton Hall History
Eppleton Hall
was built in 1914 by the Hepple and Company of South Shields, England, for the Lambton and Hetton Collieries, Ltd. The vessel, named after the Lambton family's ancestral home, was designed to tow ocean-going colliers (coal-carrying vessels) to and from the port of Newcastle on the River Tyne. Coal was a booming business, and days of transit time were saved by towing the sailing vessels upriver to load. The vessel was also used to tow newly-built ships out to sea.
Eppleton Hall
, a
steam sidewheeler
with side-lever engines, is the only remaining intact example of a Tyne paddle tug. A direct descendent of the first craft to go into commercial service as harbor tugs, the vessel was engaged on the Wear and Tyne rivers of northeast England from 1914-1967. In 1946, she was purchased by France Fenwick, Wear and Tyne Ltd., which operated her in the Wear River until 1964 (she is being restored to this period today).
Eppleton Hall's
steam engines are descended from a type first developed in England in 1828. The two large side lever engines, often referred to as grasshopper engines, operate the paddle wheels independently, making the tug especially maneuverable in tight spots.
Another unusual feature of the Eppleton Hall is its hand-forged boilers designed to use seawater. Every six weeks the accumulated salt had to be chipped out of the boilers and rinsed away. The advantage was that large freshwater tanks did not have to be carried aboard.
In 1952, the tug was modified slightly to obtain a Passenger Certificate, so that she could transport officials from newly-launched steamers. Her last commercial owner was the Seaham Harbour Dock Board, which operated her from 1964 to 1967.

She was
sold for scrap
in 1967 and, while sitting on a mud bank, fire (part of the scrapping process) destroyed her wooden afterdeck and interior. For most of 1969 she underwent repairs, including modifications for an epic steam (via the Panama Canal) to San Francisco,
passing through the Golden Gate
in March of 1970.
The vessel was donated to the National Park Service in 1979. She is now berthed at Hyde Street Pier.
---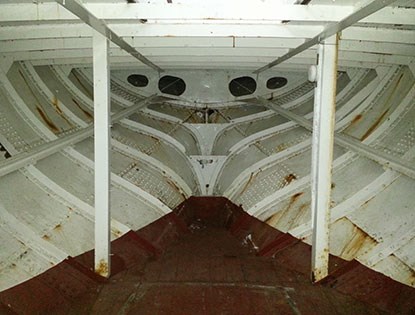 Sounds from inside Eppleton Hall

One of our intrepid Park guides made this recording from inside the hull, near the bow, of Eppleton Hall. "Eppie" is moored in the water at Hyde Street Pier.

Credit / Author:

NPS, Kristal Ip

Date created:

2020-10-14 00:00:00.0


Last updated: March 1, 2015