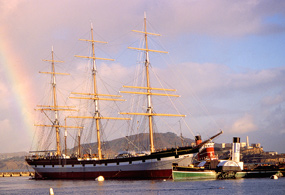 This exhibit is on the historic ship Balclutha. Step aboard the square-rigged sailing ship moored at Hyde Street Pier, and make your way below deck to the 'tweendeck. Here you can explore the lantern-lit, below-deck world crammed with sights, sounds, and smells of a past century. Balclutha sailed all over the world carrying a variety of cargo.
In case you might not be able to visit in person, we have provided a rich collection of PDF files that include many of the photographs, maps, illustrations, and text from the exhibit (Sorry, no smells.). It's not as good as the real thing, but we think you will enjoy them.
There is a lot of information, so the PDFs are in four groups.
introduction.pdf (2.8MB) Includes an overview of the exhibit.
grain.pdf (5.2MB) First Career 1886-1899 Cargo 'Round Cape Horn: Balclutha's cargo links Europe and San Francisco
lumber.pdf (3.3MB) Second Career 1899-1902 Balclutha delivers northwest timber to shore up Australian mines, and returns with coal to fuel San Francisco
salmon.pdf (5.8MB) Third Career 1902-1930 Seasons of Salmon: Balclutha, renamed Star of Alaska, serves the Alaskan canneries