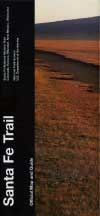 Santa Fe National Historic Trail brochure:
Side 1 - Overview (1.5 MB, PDF)
This is a large file, please be patient while it loads. You can view it by clicking on the link, or you can save it to your computer by right-clicking and choosing the "Save Target As" option.
You can also request a brochure by mail: contact us
Download the text only trail brochure in large print. The brochure is formatted for ADA standards when printed at 11" x 17". For a printed copy e-mail us.