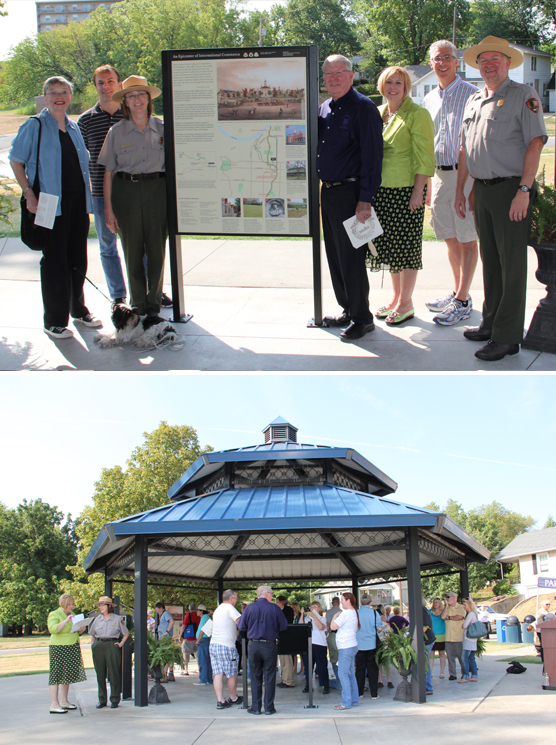 News Release Date:
August 11, 2012
Contact: Lynne Mager, 505-988-6665
An unveiling ceremony and dedication was held on August 11, 2012, for five exhibits that tell the role of Independence, Missouri in westward expansion. Independence thrived as an international hub of commerce in the 1830s-1840s. European and American-made goods were transported through the city over the Santa Fe Trail to Mexico. Emigrants going to Oregon and California came here to stock up with supplies and prepare for the journey of a lifetime.
The ceremony started with Boy Scout Troop 228 and Pack 228 presenting the color guard. Independence Mayor Don B. Reimal referenced how the exhibit project can positively improve the community, "This is an important day in Independence history. Anytime we encourage people to know more about Independence, it means that they are going to spread the word and more people are going to visit Independence. We think that everything that's happened in Independence is in the past. But this is now. This is the future."
National Park Service Superintendent Aaron Mahr agreed, "By hosting these exhibits, Independence is contributing to the city, the National Trail System, and the American public. The exhibits provide 21st-century travelers with a touchstone, an ability to connect with the past and to guide them on their travels today, learning about the legacy we all share."
A piece of iconic American history unfolds as you read the five exhibit panels: a mule-drawn railroad was built, an enslaved African American became a successful entrepreneur, and a frontier town grew and thrived. One panel points out trail sites east and west that you can visit. See you on the trail!
Read the exhibits at: www.nps.gov/safe/historyculture/mccoy-park.htm
Enjoy this local news story: www.examiner.net/news/x1568952817/Local-woman-s-art-to-help-tell-Independence-s-story-at-McCoy-Park