Auto Tour Route Sign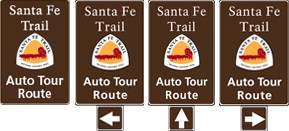 The Auto Tour Route sign is intended to mark an all weather road route that more or less follows the historic route of the trail. Similar to Local Tour Route signs, Auto Tour Route signs are intended to guide the public to be in proximity to the historic route. Historic Site Name signs are then used to direct the public from the auto tour route to historic trail sites and segments. Note that the Auto Tour Route signs are not intended to mark the trail or to convey to the public that they are on or following the trail itself. Original Route signs are used for this purpose.

The designation of the roads that comprise the Auto Tour Route is usually done as part of the trail's Comprehensive Management and Use Plan (CMP). Changes or any consideration of signing of the designated Auto Tour Route will involve direct coordination with the National Trails Intermountain Region Office. Usually, changes to the designated route identified in the CMP will not be encouraged because the route was approved through a public process that occurs during the development of the plan.
Last updated: March 16, 2016